
06:27 21-September-2016
Källman will continue on the national team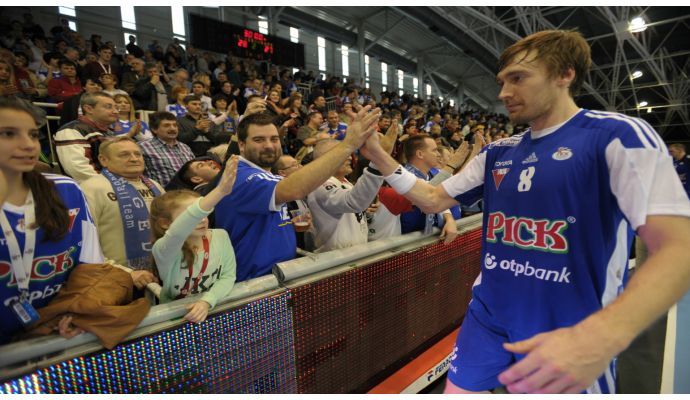 Photo: pickhandball.hu.
Written by: Rasmus Boysen
The experienced Swedish left wing of MOL-Pick Szeged, Jonas Källman, will fight to remain a Swedish national player.
Great personalities of the Swedish national team have recently retired one by one. After the head coach duo of Sweden, Staffan Olsson and Ola Lindgren, decided to stop, several players have followed. The captain of the national team, the defence specialist of SG Flensburg-Handewitt, Tobias Karlsson, retires. Kim Andersson has also announced that he will not continue on the national team. Fredrik Petersen is unsure of his future, and the experienced Swedish goalkeeper Mattias Andersson is also expected to stop soon. In addition, Kim Ekdahl Du Rietz excludes to make a comeback. There are plenty of issues to address for the new national coach of Sweden, Kristján Andrésson.
By contrast, the 35-year-old Swedish left wing Jonas Källman wants to return to the national team, after he was forced to stay home from the Olympics in Rio this summer due to overload:
"As long as I feel I can give something to the national team, I will certainly fight for my spot. I would love to continue. But Kristján (Andrésson, red.) might want to bet on other players and in this case it is only to accept," the Swedish left wing of the Hungarian top club MOL-Pick Szeged states to Sportsbladet.
Jonas Källman has played 218 caps and scored 636 goals for the Swedish national team.
Fact box:
Name: Jonas Källman
Date of birth: 17.07.1981
Nationality: Swedish
Position: Left wing
Clubs:
–2000: Växjö HK, Sweden
2000–2002: IFK Skövde HK, Sweden
2002–2011: BM Ciudad Real, Spain
2011–2013: Atlético Madrid, Spain
2013–2014: IFK Skövde HK, Sweden
2014–?: SC Pick Szeged, Hungary
Achievements:
Champions League: 2006, 2008, 2009.
Cupwinners Cup: 2003
EHF Champions Trophy: 2006, 2007, 2009
Spanish champion: 2004, 2007, 2008, 2009, 2010
Copa del Rey: 2003, 2008, 2012
Cup Asobal: 2003, 2004, 2005, 2006, 2007, 2010
Spanish Super Cup: 2005, 2008, 2011, 2012
EHF Cup: 2014
Olympics in London 2012: silver.
The player of the year in Sweden 2008-09.
On the allstar team of the Olympics 2012 in London.