Shooter stays in Århus to 2020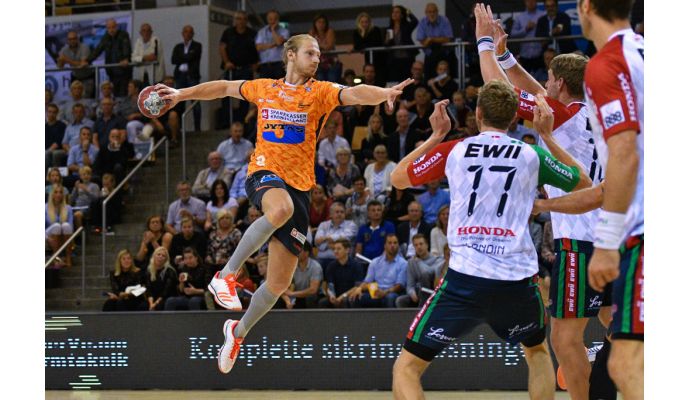 Photo: aarhushaandbold.dk
Written by: Rasmus Boysen
The 24-year-old Danish left back, Torben Petersen, has extended his contract with the Danish League club Århus Håndbold to the summer of 2020.
Press release from Århus Håndbold:
Since the summer of 2014 Torben Petersen has played for Århus Håndbold. Now, the hard-hitting player from the south of Jutland has been extended for the second time with the club and can now be found in Århus Håndbold until the summer of 2020. The team's development in recent seasons has been of great importance to the extension.
"I really like being here, and I think we as a team have moved us in a good direction. We are many young players and many have extended. Therefore, I can not see why we should not be able to play in the fun end of the table. "
As part of a strong and diligent shooting back court at Århus Håndbold, Torben Petersen is often described as an important player for the team. The responsibility that accompanies, fits Torben well, because he knows it is also here that the development takes place.
"It's nice to help take responsibility and characterize the team. When the match is to be decided, I'm one of those who takes the responsibility. It's also in the matches you think it's fun and where you think that's why you play handball. "
The team's steady development is an important point for Torben Petersen in the next seasons. There must also be more development on the handball court and in the defense, where he will be more tough.
"We must move ourselves as a team and become more stable, so we'll get further up in the table. We should not be such a team, you do not know where you have. One must know that playing against Århus Håndbold is always difficult."
Head coach Erik Veje is also delighted with the extension of the player, that has developed a lot since the arrival of the club.
"Torben has developed enormously over the last couple of years. Not least up to this season, where he has had a superb collaboration with our physiotherapist Morten Frank about the physical. He is very dedicated and is very professional in his approach to it all. "
The development has, among other things, proved in Torben's game, now he is not only a shooting but a very versatile player. The development, says Erik Veje, does not stop provisionally.
"Torben develop from day to day. Where he used to be a shooter, he is also a good defense player today. He is poisonous in the counter phase, and he has also begun to see the line player more than he did before. In every way he is in a rapid development."
Besides Torben Petersen Århus Håndbold has recently also extended the contracts with Peter Lund (read more here), Frederik Schilling (read more here) and Anders Martinusen (read more here).
Århus Håndbold is at the moment placed 4th in the Danish League.