
12:44 20-September-2017
Left wing continues in Århus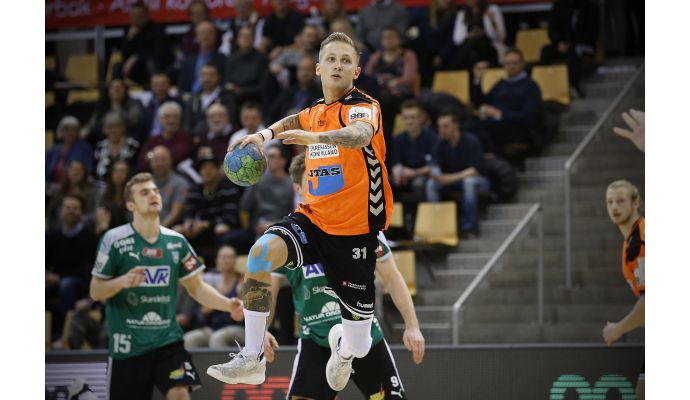 Photo: aarhushaandbold.dk
Written by: Rasmus Boysen
The 29-year-old Danish left wing of the Danish League side Århus Håndbold, Fredrik Schilling, has extended his contract to the summer of 2020.
Press release from Århus Håndbold:
Århus Handbold has extended the contract with the left wing Fredrik Schilling. His contract now runs until 30 June 2020. Fredrik has played in the club since 2014, and still believes that Århus Handbold is the place for him.
"It did not take long for me to figure out what I was supposed to do. Both in relation to where we are as a club, where we are currently moving all the time, but also in relation to myself as a handball player, where I will develop. I could not see other places where it could be as optimal as the Århus Håndbold."
Director Jan Nielsen also believes that Århus Håndbold is still the right place for the left wing and praises the development he has shown.
"Fredrik has been through a fantastic development in his handball game. He has become much more courageous in his decisions. He has raised his base level and has become very stable in his game. He played a fantastic season last year and has started really well this season."
That Århus Håndbold missed the playoffs last year, according to Fredrik, was a one-off performance that will not happen again. Therefore, the expectations for himself and the club are great.
"I expect that in the coming seasons I will still develop myself personally as a handball player, while we will perform better as a team than we did last season. We are a team with many good players and some young players who have very much potential. Therefore, we will also participate in the playoffs in the future."
Fredrik continues his work as a salesman at the office of Århus Håndbold, where he has become an important player for the sales team.
"We are really happy to have Fredrik down on the handball court, but also to be able to continue the good work with him in the office. Here he has the same will as on the pitch, to come out and make some sales and do it well. Fredrik is an elite athlete, and you can notice his attitude towards the work too," says Jan Nielsen.