Talented right back stays in Århus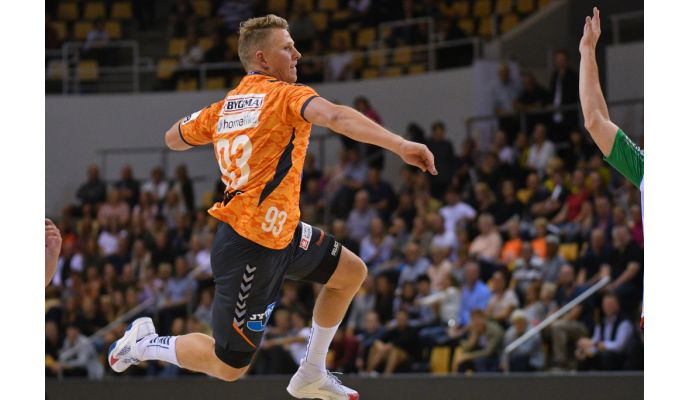 Photo: aarhushaandbold.dk
Written by: Rasmus Boysen
The 24-year-old Danish right back Anders Kragh Martinusen has extended his contract with the Danish League club Århus Håndbold to the summer of 2020.
Press release from Århus Håndbold:
36 goals in 5 matches, a scoring percent of 80, and three out of four times in the team's rounds. That's what Anders Kragh Martinusen has done shortly in the season and must therefore be said to be a fire-hot name at the moment. A fire-hot name that has just renewed his contract with Århus Håndbold and is now to be found in the club to the summer 2020. The opportunity for a steady development at Århus Håndbold played a major role for Anders Kragh Martinusen when the decision on the extension was to be taken.
"I feel very comfortable in the club, and so I'm sure I can develop more here. To me it is important that I am at a place where I develop all the time, and that I think I can here in the club with Erik, Simon and the players."
The goal for the coming seasons is a continuing development, not least of facets in the handball game. Medals for the club are the dream, but with his legs solidly planted in East Jutland, Anders has a more realistic and calm approach to that dream.
"I think it's high to say that you want to bring medals home to Aarhus, but of course you would like to. Basically, I would like to achieve very good results both personally, but also with the boys on the team and the whole staff around the club."
With such a fabulous start to the season there is also a question hidden in the shadows - can Anders keep track of the level he has shown so far? Head coach Erik Veje think he can.
"When you see Anders playing right now, it seems like he is in control. It does not seem like a day-to-day thing. Anders has all the facets of the moment, playing the lineplayer, his shot and outside breakthrough, etc.. It probably will not work at the level we are seeing right now, but I think it will continue at high level. Anders has developed amazingly."