
09:51 17-September-2017
Captain continues in Århus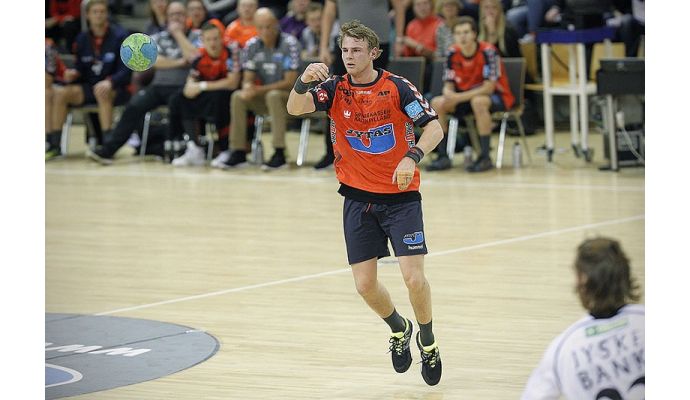 Photo: aarhushaandbold.dk
Written by: Rasmus Boysen
The 24-year-old Danish captain and defense specialist of the Danish League club Århus Håndbold, Peter Lund, has extended his contract with two years to the summer of 2020.
Press release of Århus Håndbold:
Peter Lund has extended his contract with 2 years at Århus Håndbold, so it will run until 30 June 2020. The defense general has played in the club since 2013, where he now also has become the captain of the team. Therefore, it was not a difficult decision to extend the contract.
"I'm happy to be here and have been here for some seasons gradually. I'm really well and think the coming seasons of the club look exciting and could see myself as part of it. Therefore, it was not hard for me to extend."
Head coach Erik Veje is pleased with the extension, and the development Peter has shown lately.
"Peter has evolved into defense general and captain on the team. The nice thing is that there is still a great opportunity for development. Peter's blocks is getting better and better. At the same time, he becomes better at having the overview in defense and making it happen, inter alia by influencing the teammates as well. There are not so many players who can deliver the performance in the defense that Peter does, it's high class."
Peter looks forward to completing the captain role in the coming years, where expectations for the team are also clear, not least this season.
"I have great expectations for the team in the coming seasons. The team is developing quietly and we have some interesting players so it's good. I hope and expect we are in a semi-final this spring. It is not impossible if we manage to hit a high level when we get into the season."
Erik Veje believes that Peter's development may point to a game in which he participates in the attack.
"Peter has taken a step regarding the attack game. We watched the whole spring when we trained Peter, that he will be a two-way player sometime, maybe during the next year's time."
Even Peter is currently well-pleased in the defense, but is not entirely dismissive for more attack games in the future.
"I'm really good at the role I have now. In the long run, however, it could be fun, and it's also something I am working with at the daily training so it might be that it could end up at one point."