Key player becomes captain & stays in Skjern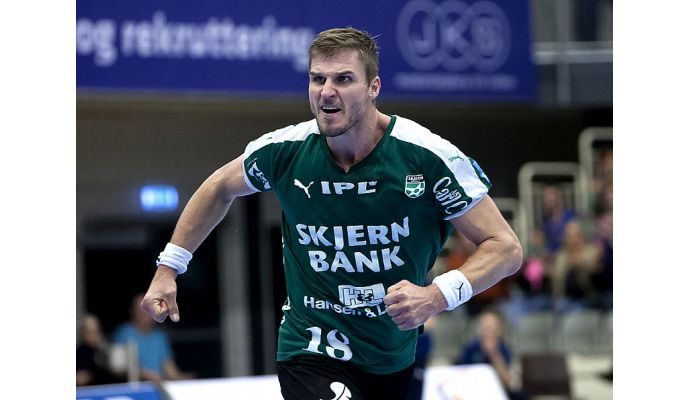 Photo: skjernhaandbold.dk
Written by: Rasmus Boysen
The Danish top club Skjern Håndbold has extended the contract with the 34-year-old Norwegian line player Bjarte Myrhol with 2 years to the summer of 2020.
The Norwegian national player Bjarte Myrhol, who came to Skjern Håndbold from the German top club Rhein-Neckar Löwen in 2015, has extended his contract to the summer of 2020.
- I am extremely pleased to renew the contract with Skjern. The way as my family and I have been accepted in Skjern has been overwhelming. My family and I thrive, so the decision to extend was easy," says Bjarte Myrhol and elaborates:
"Skjern working to become Denmark's best handball workplace. Now I have been here for one and a half years and I can not understand anything other than this goal is already achieved. Everything is in place to play handball at the highest level in Skjern."
This summer the 38-year-old Danish line player Thomas Klitgaard, who is current captain of Skjern Håndbold, retires after 20 years as handball player. He conveys the captaincy to Bjarte Myrhol.
"It is an honor to take over the captaincy. Many great players have worn it before me. I hope that I can use my experience and
skills both on and off the field to continue to keep Skjern in the top of Danish handball," says Bjarte Myrhol, who get big praises from the chairman of the Board i Skjern Håndbold, Carsten Thygesen.
"Bjarte Myrhol has since his arrival in Skjern shown a tremendous professional approach - and spiced with his fight and dedication to the
game, he meets all the criteria for taking over the captaincy after Thomas Klitgaard."
Read also: Bjarte Myrhol is part of the Norwegian World Championship squad.
Fact box:
Name: Bjarte Håkon Myrhol
Date of birth: 29.05.1982
Nationality: Norwegian
Position: Line player
Height: 192 cm
Caps: 188 (538)
Clubs:
1987–2002: Vestli IL, Norway
2002–2005: Sandefjord TIF, Norway
2005–2006: KC Veszprém, Hungary
2006–2009: HSG Nordhorn, Germany
2009–2015: Rhein-Neckar Löwen, Germany
2015– Skjern Håndbold, Denmark