Tilsted joins GOG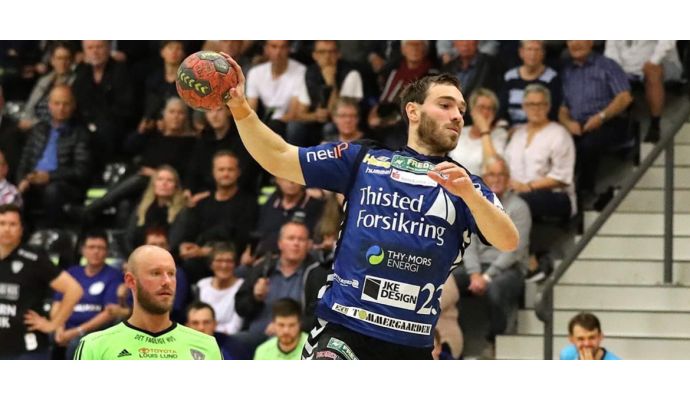 Photo: gog.dk
Written by: Rasmus Boysen
The 23-year-old Danish left wing Henrik Tilsted joins GOG to replace Magnus Jøndal from next season.
Tuesday, the Danish top club GOG announced a new right wing from next season, the Icelandic national player Odinn Thor Rikhardsson as replacement for Mark Strandgaard (read more here).
Today, the Danish league club has announced a deal with the 23-year-old Danish left wing of Mors-Thy Håndbold, Henrik Tilsted, who replaces the Norwegian national player Magnus Jøndal from next season, where the Norwegian left wing joins SG Flensburg-Handewitt (read more here).
In the middle of October the rumor of Henrik Tilsted to GOG already occured (read more here). In the beginning of November the current club of Henrik Tilsted, Mors-Thy Håndbold, announced his departure (read more here).
GOG has signed a 3-year contract Henrik Tilsted from next season to the summer of 2021.
"GOG has probably the most attractive handball in Denmark. A game style with lots of speed and a playing style I can see myself in. In addition, it's a big club that I grew up watching in TV, so when I got the offer I was sure it was the right thing for me. GOG has an exciting squad right now, a new exciting coach and a story that shows that they focus on young players and wingers especially. I'm looking forward to becoming part of the counter attacking phase, which I think all wingers dream of being a part of," Henrik Tilsted states in a press release from GOG.
"We are excited to have another player in place for the coming season so we ensure that we have a top team - also in the coming seasons. Henrik Tilsted is a talented player with a great potential and we look forward to developing him even more in the yellow shirt," says GOG director Kasper Jørgensen.
"Henrik Tilsted is a player who has played stable for Mors-Thy Håndbold for several years now. He is another player who has a good level but still has more potential to redeem. We are looking forward to helping him. Henrik is good from the corner, has a nice physique and is also a really sensible defender. Through the talks with Henrik, I have been convinced of his great commitment, which is an absolute prerequisite for success in our environment. We are looking forward to Henrik and Emil Jakobsen to form a young but highly competent duo on the left-hand side next season," states GOG's head coach Nicolej Krickau.