Hannover has signed Pevnov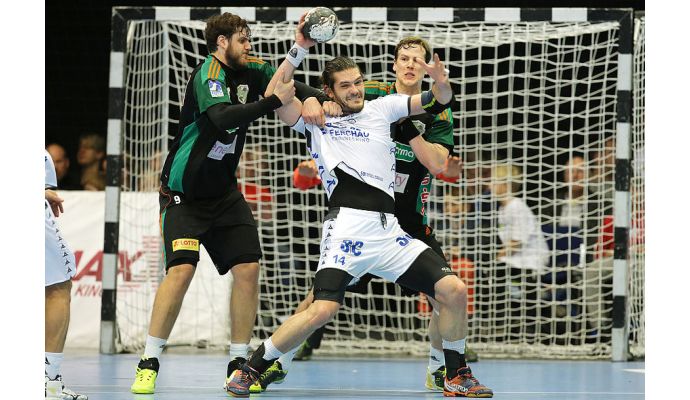 Photo: die-recken.de
Written by: Rasmus Boysen
The 27-year-old German line player of VfL Gummersbach, Evgeni Pevnov, has signed a 2-year contract with the German Bundesliga club TSV Hannover-Burgdorf from next season to the summer of 2019 as a replacement for Erik Schmidt.
Press release from TSV Hannover-Burgdorf:
Evgeni Pevnov will be a "RECKE"
TSV Hannover-Burgdorf can welcome a new face on the line player position from the 2017/18 season. Die Recken has agreed with Evgeni Pevnov on a contract until 30.06.2019. The 27-year-old German changes from the League rivals VfL Gummersbach to the Lower Saxony state capital. "Evgeni is a big line player who is very shooting secure and can make space for the back court players area," says head coach Jens Bürkle, describing only a few of the advantages of the 198 centimeter tall Pevnov.
For the native Russian, who has been a German citizen since 2012 and made debut in the German national team in the same year, the positive development of Die Recken is just the beginning: "The team in Hanover has very great potential", explains Pevnov, who convinced above all the discussions with the Die Recken managers Benjamin Chatton and Jens Bürkle. "I liked the way I communicate and I feel good about my decision."
The 27-year-old has been playing continuously in the strongest league of the world since 2010. In addition to the Füchse Berlin, with whom Pevnov was able to win the EHF Cup in 2015, the line player was among others at Frisch Auf! Göppingen under contract. Since 2015, Pevnov has been wearing the tricot of VfL Gummersbach.
Evgeni Pevnov replaces Erik Schmidt, who joins Füchse Berlin from next season. VfL Gummersbach has instead of Pevnov signed the talented German line player of Bergischer HC, Moritz Preuss.