Icelandic national player moves to Denmark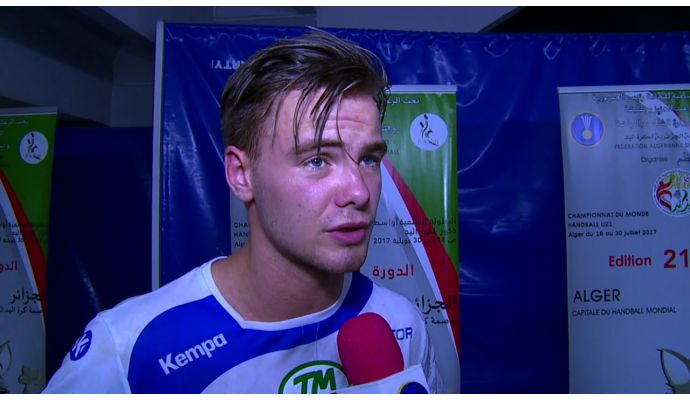 Photo: ihf.info
Written by: Rasmus Boysen
The Danish League club GOG has signed the Icelandic national player Odinn Thor Rikhardsson as replacement for Mark Strandgaard from next season.
The Danish League club GOG has singed the 20-year-old Icelandic national player Odinn Thor Rikhardsson as replacement for the Danish right wing Mark Strandgaard, who joins Aalborg Håndbold from next season (read more here).
Odinn Thor Rikhardsson, who plays in the Icelandic League club FH Hafnarfjordur, is part of the Icelandic national team and in play for an European Championship ticket for January in Croatia. He has signed a 3-year contract from next season to the summer of 2021 with GOG.
"I'm sure GOG is a club that suits me. I've only heard positive things about GOG. It's a great step for my career and development as a handball player. I'm very excited to play for GOG next season," says Odinn Thor Rikhardsson in a press release.
"We are looking forward to it a lot. Odinn Thor Rikhardsson fits our concept with young talented players with a great potential. We are sure that at GOG he will become one of the best right wings in the Danish League," says GOG-director Kasper Jørgensen.
At the U20 EM in 2016, the talented right wing scored 63 goals for Iceland and was selected for the All Star team as the best right wing in the tournament.
"I am extremely pleased that we have succeeded in securing Odinn to GOG. He fits perfectly into our profile by recruiting players who can help maintain our position at the top, but still with great opportunity to further develop. He has exactly the counter atticking DNA that wings in GOG should have. A player with good speed and with good qualities at the shooting. All in all, a player we are looking forward to getting in the fold and developing on," says GOG head coach Nicolej Krickau.