TTH confirms interest in Swede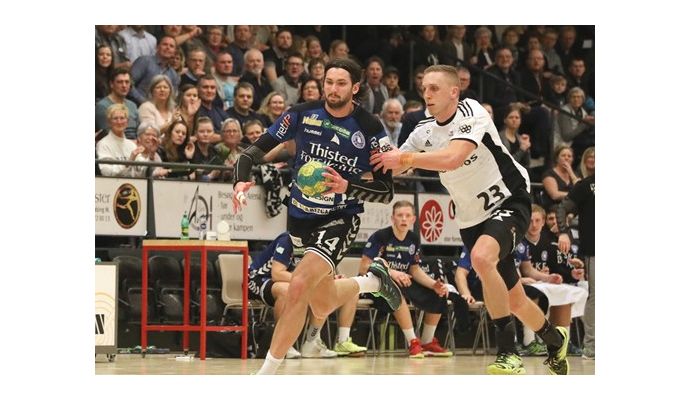 Photo: mors-thy.dk
Written by: Rasmus Boysen
The Danish League side TTH Holstebro confirms interest in the Swedish right back Marcus Dahlin.
Yesterday, the Swedish handball-site Handbollskanalen revealed, that the 27-year-old Swedish right back Marcus Dahlin is about to leave his current Danish League club Mors-Thy Håndbold after this season. The two league rivals TTH Holstebro and KIF Kolding-København were named as possible new destinations for the tall Swede (read more here).
Today, one of the clubs confirms interest in the Swedish back court player. In an interview with the Danish newspaper Dagbladet Holstebro-Struer, the Finnish head coach of TTH Holstebro, Patrick Westerholm, confirms the interest:
"We must have found a replacement for Simon Birkefeldt, and Marcus Dahlin is one of the players we are looking at."
Simon Birkefeldt leaves after this season TTH Holstebro after 5 years in the club in favor of the German Bundesliga club MT Melsungen (read more here). The other right back of TTH Holstebro, the Danish national player Peter Balling, has extended his contract to the summer of 2021 (read more here).
TTH Holstebro has previously signed players of Mors-Thy Håndbold as the Finnish playmaker Jac Karlsson in 2015 and the Danish left back Jonas Porup in 2016.
Marcus Dahlin has been one of the profiles at Mors-Thy Håndbold this season. He has scored 72 goals in 13 matches. He is number 4 on the Danish top scorer list.
At the playmaker position, TTH Holstebro is also in search of players, as it is still unclear whether Jac Karlsson and Martin Hansen extend their contract with the Danish club.
The 203 tall Swede, Marcus Dahlin, began his career in the Swedish club Stenungsund HK. The career has since gone through Alingsås HK (Sweden), TMS Ringsted (Denmark), ØIF Arendal (Norway) and IFK Kristianstad (Sweden). He came to Mors-Thy Håndbold before last season, and has a contract which expires at the end of this season.