Rumor: Frandsen to TTH - Larsen to BSV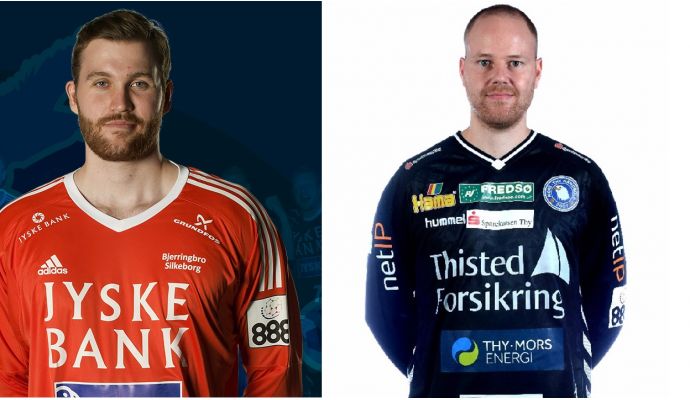 Photo: bjerringbro-silkeborg.dk and morsthy.dk
A great goalkeeper's solitaire is under way in Denmark. In addition to Søren Rasmussen also the second goalkeeper of the Danish top side Bjerringbro-Silkeborg, Sebastian Frandsen, allegedly leaves the club after this season. One replacement is allegedly found.
Yesterday it was revealed, that the 41-year-old goalkeeper of Bjerringbro-Silkeborg, Søren Rasmussen, leaves the club after this season - according to the Danish TV-channel TV2 to the League rivals Ribe-Esbjerg HH (read more here). Today TV2 reports about another goalkeeper leaving BSV.
According to TV2s information, the 23-year-old talented Danish goalkeeper Sebastian Frandsen also says goodbye to the Danish top club after this season, despite the fact that he has a contract until the summer of 2019. According to the sources of TV2 Sebastian Frandsen is in negotiations with the League rivals TTH Holstebro, who is looking for a replacement for the Norwegian national player Torbjørn Bergerud, whom TTH has already sold to the German Bundesliga club SG Flensburg-Handewitt from next summer.
TV2 reports furthermore, that it is unclear whether the 23-year-old goalkeeper has an option in his contract that allows him to leave BSV this summer, if he has been bought out of the contract, or if the parties just have agreed to stop the cooperation.
If the rumors are true, Bjerringbro-Silkeborg must find two new goalkeepers for the upcoming season. According to TV2 one of them may be Kasper Larsen from the League rivals Mors-Thy. In late September Midtjyllands Avis already reported rumors about Kasper Larsen and Bjerringbro-Silkeborg in this season (read more here), where the Danish club searches a replacement for Sebastian Frandsen, who is currently out with a knee injury and is expected to be back on track for BSV in the New Year. (read more here). Kasper Larsen has a contract with Mors-Thy to the summer of 2020, so BSV will have to pay a transfer.
Besides the rumors of the goalkeepers of the Danish League Sebastian Frandsen, Søren Rasmussen and Kasper Larsen also the Serbian goalkeeper of Skjern Håndbold, Tibor Ivanisevic, is rumored to a new club (read more here).