
07:48 22-September-2017
Rumor: BSV wants Kasper Larsen back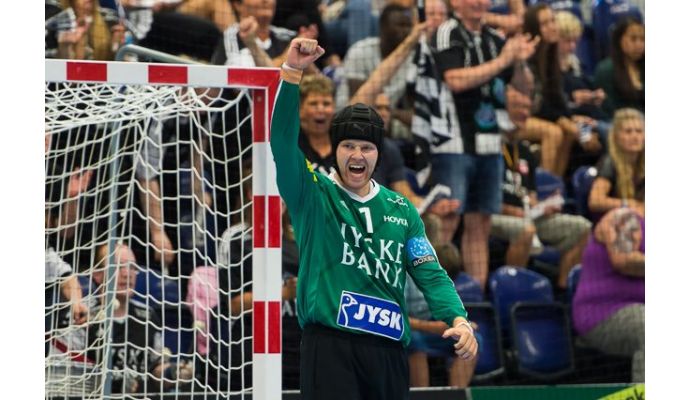 Photo: Bjerringbro-Silkeborg.dk
Written by: Rasmus Boysen
According to the Danish newspaper Midtjyllands Avis is the Danish goalkeeper Kasper Larsen a hot topic in Bjerringbro-Silkeborg to replace injured Sebastian Frandsen.
Bjerringbro-Silkeborg is in urgent need of a goalkeeper after the talented 23-year-old Danish goalkeeper Sebastian Frandsen has got a long-term knee injury and is out for 5 to 6 months (read more here).
According to informations of Midtjyllands Avis, the Danish top club BSV is interested in bringing the 28-year-old Danish goalkeeper Kasper Larsen back to the club - and preferably in the near future, where the team also has matches in the EHF Cup.
Kasper Larsen came to Bjerringbro-Silkeborg from Skanderborg Håndbold in the 2015/16-season, where the Danish club won the Danish Championship for the first time ever.
Kasper Larsen has since moved to Mors-Thy, where he last season came on the allstar team of the Danish League. In February he extended his contract to the summer of 2020, and the Danish newspaper Midtjyllands Avis is also question whether Mors-Thy is willing to drop their keeper in the middle of the season.
BSV Director Jesper Schou is silent about the connection.
"I can not comment on names, but we work on many fronts in relation to a new goalkeeper. Kasper is an incredibly interesting player, which we know really well. He had a great season when we became Danish champions, but if he is a subject, I can neither confirm nor deny. We have many players on the block," states Jesper Schou to Midtjyllands Avis.
The Director of Bjerringbro-Silkeborg hopes that a solution can be found in the near future.
"We hope, that we are relatively close. We have used the last days to get an overview both in Denmark and abroad. Through our network, many names have come into play, and we have investigated and now narrowed the field. But we are working on several topics," says the BSV director to Midtjyllands Avis.
Besides Bjerringbro-Silkeborg, Skanderborg Håndbold and Mors-Thy Kasper Larsen has also played in the Danish clubs Fredericia HK, Århus Håndbold and Ribe-Esbjerg HH.