Møller extends with GOG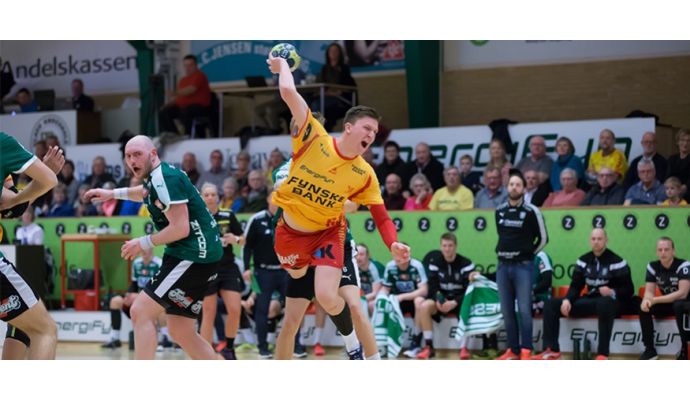 Photo: gog.dk
Written by: Rasmus Boysen
The promosing Danish youth national player Lasse Møller has extended his contract with the Danish club GOG with one year from the summer of 2018 to the summer of 2019.
Press release from GOG:
GOG extends with young comet
The home court has always been the arena in Gudme, and to 20-year-old Lasse Møller it has actually always been like a second home. Now the talent flourishes in the 1st team - also for the next two seasons.
It is located in the DNA of GOG to develop their own talents. That's just the ways it is at the handball school in Gudme. Once again a talent has gone from the youth teams directly into the League team. And young Lasse Møller has done so well that there are now signed a contract valid until the summer 2019.
"It was quite natural for me. This is where I think I will develop the most. The role I have on the team, I can not see, I could get better elsewhere," says the left back Lasse Møller. "And then I have some good friends on the team and in the club. It's "home" for me, so it was natural to extend with GOG. It fits well - both athletically and socially."
Lasse Møller is almost born in the arena in Gudme. Son of former GOG-profile and national team goalkeeper Bent Møller. There has been spent many hours on Stærkærvej 1. Playing with friends in his spare time, cheer for father on the sidelines, and now as part of the League team at the highest level. And Lasse Møller has big ambitions for his future in the yellow jersey.
"I would like to move even higher up in the top of Danish handball. I think we have the team to do it with some talented young players," says Møller, who is also a regular part of the Danish youth national.
And it was quite natural to the head office to sign a contract with Lasse Møller.
"It's one of our own boys who are a natural part of the club. And have been it all of his life. Right now he performs violently good on the field, so it was the obvious choice. It also fits well into our plans to remain at the top of Danish handball focusing on talented, young players," says GOG-director Kasper Jørgensen.
Lasse Møller and GOG had paper at each other for another season. The contract is thus now replaced with a new agreement covering the next two seasons.
GOG finished 5th in the regular season of the Danish League.