Algerian national player free agent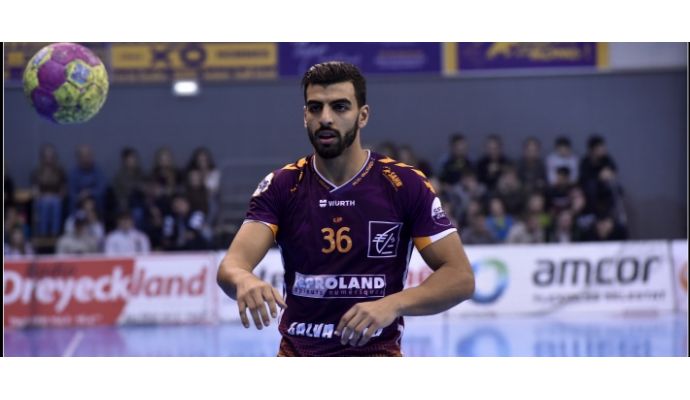 Photo: sa-hb.com
Written by: Rasmus Boysen
The 27-year-old Algerian national player Abdelkader Rahim has been a free agent since the end of last season where his club Selestat Alsace Handball relegated from the French League and his contract expired.
Without a club since the end of last season Abdelkader Rahim is still looking for new challenges. The 27-year-old Algerian back court player, who has professionally since 2008 in the French clubs Grand Nancy, USAM Nîmes Gard, Istres PH and last season in Selestat Alsace Handball, has talked to the French handball website Made in Hand about his future:
"My contract with Sélestat expired at the end of last season. The club relegated to the Proligue and wanted to start a new project with many young players. I did not see the team go right back in the French League," states the Algerian national player, who tells he has had some offers after the departure:
"Yes, I had offers. There was some contact with my agent but nothing came up." With Lidl Starligue clubs? "Yes, a few. But also Proligue, except that at the time I really wanted to stay in the elite. Despite that the season was difficult collectively at Sélestat, on the personal level I was satisfied with what I had brought. I wanted to find a club in Lidl Starligue."
Abdelkader Rahim does not rule out going abroad:
"We must see. I also had some contacts with clubs abroad, but I did not want to find myself alone in the depths of a country I did not know. I'm 27 years old and I still prefer, as from the beginning of my career, the sporting project to the rest. As an Arab player, I would have been able to play in the Gulf because we have privileged contacts, but that does not interest me at the moment."
The Algerian national player is fit for fight and ready to play:
"Physically I'm fine. I miss only the competition. I will play matches with the Algerian national team at the end of the month. Even though I do not have a club at the moment, I'm one of the profiles there. But it is a beautiful mark of confidence to have called me up despite my situation."