Experienced winger stays in Dunkerque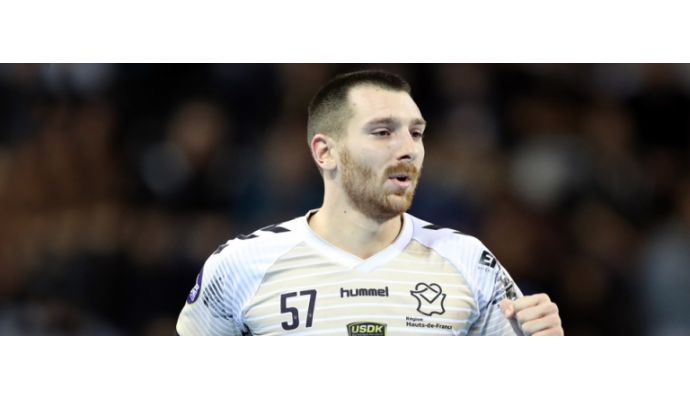 Photo: http://www.usdk.fr
Written by: Rasmus Boysen
The experienced French left wing Baptiste Butto has extended his contract with the French League club US Dunkerque.
Since 2009, where he came from Selestat HB, Baptiste Butto has played in the French League club US Dunkerque. The 30-year-old French left wing has now decided to continue long-term with the former French champion - he has extended his contract with Dunkerque with 3 years to the summer of 2021.
"Baptiste is now part of the major executives of the USDK. He has worn our colors since 2009, participated in the conquest of all our titles and he is a decisive player who scored some very important goals during our victories. I'm counting on him, along with other executives, to bring his great experience to the new collective built for this season and to supervise young and very potential players," the President of US Dunkerque, Jean-Pierre Vandaele, in a press release.
"I am obviously happy to continue the adventure in Dunkerque. I commit again to the project of the club because I think that we can get to do beautiful things with this group. With Mike Grocaur, Pierre Soudry, William Annotel and Kornel Nagy, I'm one of those who have been around for a while. It is also a pride to be able to continue wearing the Dunkerque jersey. Staying more than 10 years in a club is not necessarily a sign that you have not made progress. Some people would want to think so. In my opinion, staying in the same club means that they trust you, you bring him stability by your performance and by what you bring to the group. I see it especially like that. I found what I was looking for here, winning titles, playing the European Cup. We may have had more than we had hoped for at the beginning, but in any case, what we had, we deserved it. We know the requirement it takes to be in the Top 5 of this championship which is very complicated. I try to bring this requirement, my experience to the group, to the players who need it. I think I can play this role while performing well on the court," Baptiste Butto states in the press release.
"We are very happy and proud that Baptiste has extended for 3 seasons. We want to be ambitious for the years to come so it was important to make this ambition to Baptiste, because he is someone who always wants to win and progress. And for us, it's also important to keep such players to validate our ambitions. It is a beautiful story that continues and today, Baptiste is, since the time he is in Dunkerque, a player with more and more experience. He will bring these next years our ambitions but also our values," the head coach of US Dunkerque, Patrick Cazal, states.
Baptiste Butto has won the French Championship (2013/14), Coupe de France (2011), Coupe de la Ligue (2013) and the Trophée des champions (2012). Furthermore, he participated in the EHF Cup final in 2012.
US Dunkerque is at the moment placed 7th in the French League.