Flensburg signs Norwegian talent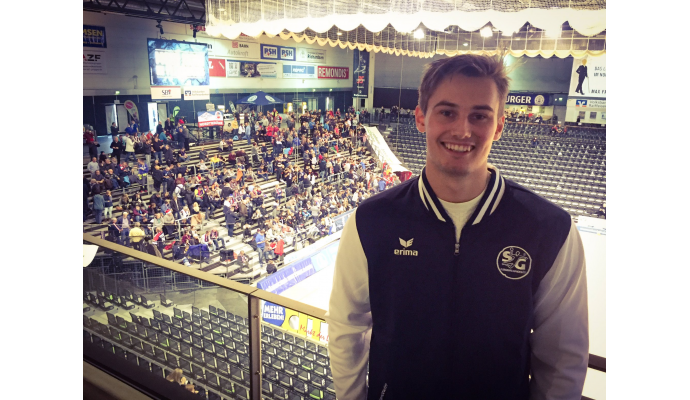 Photo: bskhandballelite.no
Written by: Rasmus Boysen
SG Flensburg-Handewitt has in the half-time of todays Bundesliga match at home against GWD Minden announced the Norwegian right back Magnus Rød to replace Johan Jakobsson from next season.
The 19-year-old Norwegian right back of the Norwegian club Bækkelaget Håndball Elite is the first signing of SG Flensburg-Handewitt for the new season. He has signed a 3-year contract to the summer of 2020.
The 205 centimeters tall Norwegian right back, who participated in the U20 European Championship in Denmark this summer and already has got his debut on the Norwegian national team, has been sougth after. Several top clubs from Scandinavia, Eastern Europe, Germany and France has allegedly been interested in the 19-year-old right back.
Magnus Rød has allegedly rejected contract offers from the Spanish top club FC Barcelona and the Danish club Aalborg Håndbold. Both clubs wanted the Norwegian talent with immediate effect, but he prefered to stay in the Norwegian club Bækkelaget Håndball Elite for the rest of the season.
SG Managing Director Dierk Schmäschke about the signing: "After a long time we can once again have a Norwegian talent in the ranks of SG, which makes me very happy. Magnus will thus continue the tradition of the top Norwegian athletes at the SG after prominent predecessors such as Knut-Arne Iversen, Johnny Jensen, Glenn Solberg and Christian Berge."
SG coach Ljubomir Vranjes about the signing: "I'm looking forward to have Magnus and his outstanding talent. He is a young player with a lot of potential. He'll need his time to get used to Germany, but we'll give him that, of course. Physically, he already has the best conditions at his very young age. I look forward to our cooperation from next season."
Magnus Rød about the signing: "What can I say? With this contract a dream comes true for me! I am incredibly strong on my chance from July. I thank the SG for their confidence in me. I will work hard to not disappoint this. I saw a game of the SG live for the first time today and have already got the gooseballs when I think, that I will be at home here in the FLENS-ARENA next season."
The Swedish head coach of SG Flensburg-Handewitt, Ljubomir Vranjes, recently announced that the North German squad only will contain 15 players next season as opposed to 18 players this season.
Yesterday Johan Jakobsson revealed, that he leaves SG Flensburg-Handewitt after this season to join his former Swedish club IK Sävehof on a 2+1-year contract.
See the contract expirations of SG Flensburg-Handewitt here.