Rumor: Duo leaves Vardar for Germany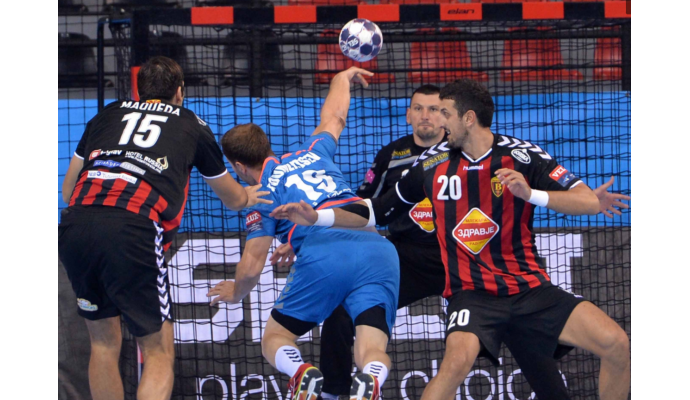 Photo: rkvardar.mk
Written by: Rasmus Boysen
The duo of the Champions League champion RK Vardar, Jorge Maqueda and Ilija Abutovic, are allegedly on the way to leave Macedonia in favor of the German champions Rhein-Neckar Löwen.
After the Croatian national player Luka Cindrić, who joins the Polish champion Vive Kielce after this season (read more here), two more players is allegedly also leaving the Macedonian champions RK Vardar after this season.
According to the Macedonian handball-website 24Rakomet both the Spanish right back Jorge Maqueda and the Serbian defense specialist Ilija Abutović are about to leave RK Vardar after this season. The handball-website states the following:
"From next season RK Vardar will probably be weakened. Two players from the current team are about to leave. Ilija Abutovic and Jorge Maqueda are targeted by the German champions Rhein-Neckar Löwen. It is more than certain that on of the best defenders in Europe will continue his career in Germany. There remains only agreement on the details of the compensation, that should be paid for him.
In the game for Abutovic is also THW Kiel, but Rhein-Neckar Löwen is more persistent in his intention, and has higher ambitions in the Champions League and the German championship, so they have the advantage. Ilija Abutovic has a contract also valid for next season in Vardar, but the Germans are ready to pay a transfer for one of the best defenders in Europe.
The two Vardar players have offers on the table for which they need to think quickly and decide what to do next.
Jorge Maqueda in RK Vardar came from HBC Nantes, but this season he is in excellent shape and immediately has found the interest of Nikolaj Jacobsen, the coach of Rhein-Neckar Löwen. The Spaniard proved to be interesting for several other clubs."
Ilija Abutovic has played in RK Vardar since 2011. Jorge Maqueda came to RK Vardar from HBC Nantes in 2015.
Besides Abutovic and Maqueda also the Spanish head coach of the club, Raul Gonzalez, is rumored away from the club. Read more here.