Tobias Møller to Århus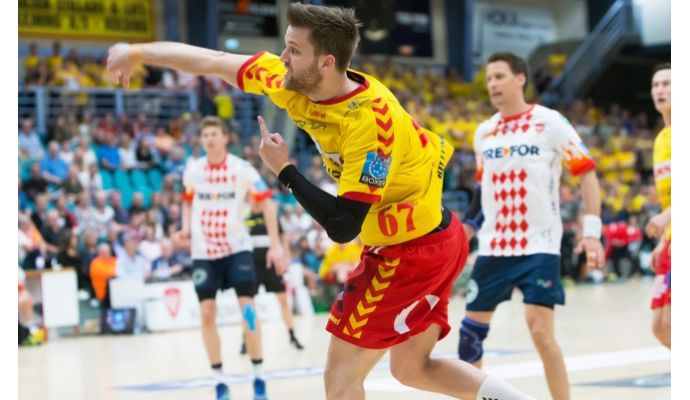 Photo: aarhushaandbold.dk
Written by: Rasmus Boysen
The 26-year-old Danish left wing of GOG, Tobias Møller, has signed a 2-year contract with the Danish league club Århus Håndbold from next season to the summer of 2019.
Århus Håndbold has from the summer of 2017 written a two-year contract with Tobias Møller. The 26-year-old left wing has except for a brief detour to Aalborg Håndbold played most of his handball career in his current Danish club GOG. After several years as a regular on the left wing in GOG, it was time to look for new challenges, after the Norwegian national player Magnus Jøndal joined GOG before this season.
"I'm glad that it was Århus Håndbold, because I think it is a great club with some great players and good coaches. Århus Håndbold wants to play at the top of the league, which was an important parameter for me. I see this as a big step forward in my development," says Tobias Møller.
Tobias Møller is pleased to have Erik Veje as a coach and hopes that it can contribute to a positive development both on a personal level and as a handball player.
"I have high expectations of Århus Håndbold and their coach team with Erik Veje in the front. My dream is to help to win a national Championship. Last year I got a bronze medal with GOG, but it would be cool to get to the top," says Tobias Møller and continues:
"I can contribute with a portion of league experience and a clever counterattack game that I want to take on from GOG."
Århus Håndbold's, Jan "Tromle" Nielsen, is looking forward to the new collaboration with Tobias Møller.
"Tobias is in our eyes a complete winger, as he has both expertise in the attack, defense and counterattacking. It is particularly in contra game that Tobias is sharp, which is a property that he has attached himself to his longtime childhood in GOG. We get a young player of 26 years old that has some league experience at high level. We are very pleased that he will be a strong duo with Fredrik Schilling," says Jan Nielsen.
Tobias Møller replaces the Norwegian left wing, Stian Brevik, who leaves the club after this season.