
16:08 02-September-2017
Skube stays in Bjerringbro-Silkeborg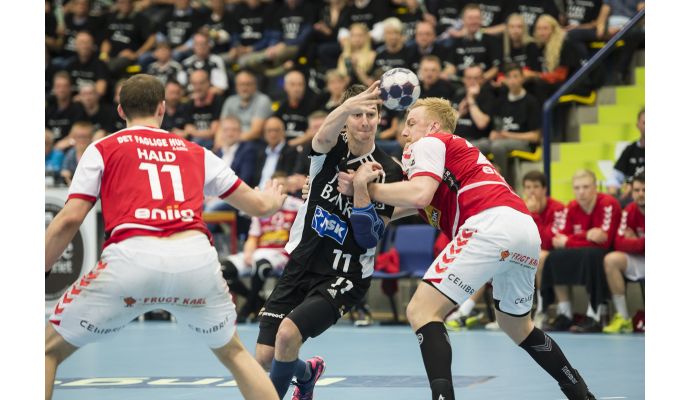 Photo: bjerringbro-silkeborg.dk
Written by: Rasmus Boysen
The former Slovenian national player Sebastian Skube has extended his contract with the Danish top club Bjerringbro-Silkeborg to the summer of 2019.
Press release from Bjerringbro-Silkeborg:
Bjerringbro-Silkeborg has extended the contract with Sebastian Skube, so he stays in the club and Danish handball until 2019.
It is one of Danish handball's biggest profiles, which has signed a new contract with Bjerringbro-Silkeborg. The Slovenian super strategy Sebastian Skube will be in Bjerringbro-Silkeborg for another season. He likes the club, the Danes and Denmark and feels at home in the cooler north. Therefore he has chosen to stay.
"I'm fine, my family is doing well and my daughter is happy here in Denmark. There is no need to change club and move when we feel so good here", says Sebastian Skube, who is also enjoying the life in Denmark and in Bjerringbro-Silkeborg.
"We have a good team and a good training environment, and so I am really pleased with the good atmosphere in the JYSK Arena."
Nominated as best playmaker in the Champions League
Sebastian Skube had major shares in Bjerringbro-Silkeborg's Danish Championship triumph in 2016, and last season he impressed all of Europe in the Champions League. In fact, he impressed so much that he was nominated as the best playmaker in the Champions League together with names like Andy Schmid and Nikola Karabatic. In the coming seasons in Bjerringbro-Silkeborg, Skube hopes for more European success.
"It's really cool to be in a team where we can commit ourselves to the European scene. This year we play the EHF Cup and I really want to join Final4, and so I hope we can play the Champions League again next year. It was a lot of fun last season, and we learned a lot both individually and as team," says the Slovenian handball star, who also has great ambitions on his team's behalf in the domestic league."
"We will be in the finals. There are many teams in the Danish league that are good, but I think we have the team to go to the finals. We must be good throughout the season and so hit the top form in April and May.
A unique contribution to the handball product
Sebastian Skube becomes an important asset for Bjerringbro-Silkeborg in pursuit of success both in Denmark and in Europe. Head coach Peter Bredsdorff-Larsen does not hide the fact that it is a scoop for the club to keep him until at least 2019. Back in 2014, Sebastian Skube was a dream player for Bredsdorff-Larsen to get to Bjerringbro-Silkeborg when a new team and a new culture should be built up, and Skube has not disappointed in Denmark.
"We still feel privileged and lucky that Sebastian Skube succeeded in settling in Silkeborg and helping to build something new in Bjerringbro-Silkeborg. We have had a wonderful collaboration with Skube, who is very keen to help develop our team and our game. From today he has been a key player in achieving our great results."
"I am pleased that both he and his family are so happy to be in Bjerringbro-Silkeborg, that we are sure to have had him for at least five seasons. Both for the team, for our sponsors and for the Danish handball League it is a scoop. With his extraordinary competencies in the man-to-man game, he is a unique contributor to our product and a favorite among our audience,"said Peter Bredsdorff-Larsen.
Sebastian Skube confirmed to the Danish TV-channel TV2, that he had offers from foreign Champions League clubs.