
16:41 03-September-2017
Skjern signs Norwegian national player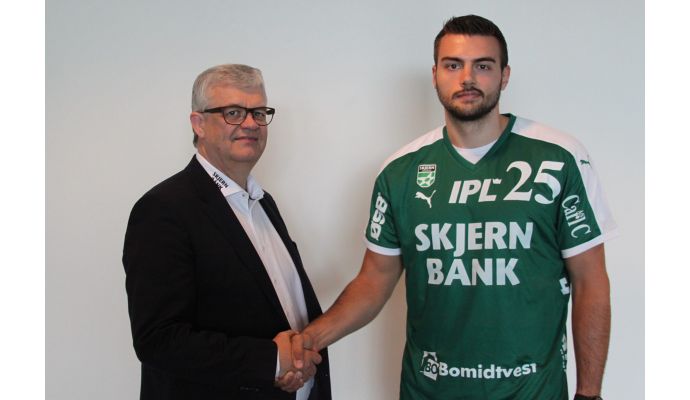 Photo: skjernhaandbold.dk
Written by: Rasmus Boysen
The Danish top club Skjern Håndbold has signed a 3-year contract with the Norwegian national player Eivind Tangen from next season to the summer of 2021.
Press release from Skjern Håndbold:
Norwegian national team profile moves to Skjern
Skjern has signed a contract with the Norwegian World Championship silver medalist Eivind Tangen starting from the summer of 2018.
One of Scandinavia's most promising back-row players will next season play in a green Skjern-shirt. The Norwegian national player Eivind Tangen has put his signature on a three-year agreement with the defending vice champions and cup winners starting from 1 July 2018.
The 24-year-old Eivind Tangen has played 50 caps and was a central part of the Norwegian national team that won the World Championship silver in France in January.
A very exciting addition to Skjern squad, says chairman Carsten Thygesen.
"Eivind is a young Norwegian who can play at both ends of the court. He has already proven himself at international level, that with his physique, firepower and intelligent
can cause problems for any defense," says Carsten Thygesen.
Eivind Tangen made his senior debut at the Norwegian League already at age 16, and half a year later, he became the youngest debutant on the Norwegian national team only 17 years old.
A year ago Eivind Tangen left the Norwegian club Fyllingen/Bergen to join Danish HC Midtjylland, where he last season scored 112 goals and made 47 assists in 26 matches.
"I've learned a lot playing in the Danish league and I look forward to continuing my career development in a top club like Skjern, which in recent years has played for the gold," says Eivind Tangen.
Eivind Tangen is Skjern Håndbold's second signed player ahead of next season, as SG Flensburg-Handewitt profile Thomas Mogensen has already signed a contract with
the Danish club.