Nikolaj Jacobsen new Danish national coach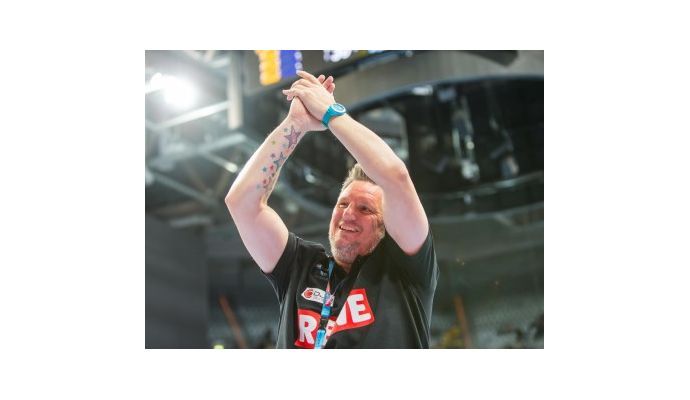 Photo: rhein-neckar-loewen.de
Written by: Rasmus Boysen
The Danish head coach of Rhein-Neckar Löwen, Nikolaj Jacobsen, replaces Gudmundur Gudmundsson as head coach of the Danish national team after the World Championship in France in 2017.
The rumors have been many, but now it is sure - Nikolaj Jacobsen becomes the new Danish national coach after Gudmundur Gudmundsson's contract expires in the summer of 2017.
Nikolaj Jacobsen continues as head coach in Rhein-Neckar Löwen 2 more years to the summer of 2019. Thus is the first two years of the contract period with the Danish Handball Federation at half-time.
"I see it as a great honor to be allowed to lead the men's national team. It is a job that is very attractive and do not often come into play," says Nikolaj Jacobsen in a press release and adds:
"I am looking forward to getting back on the big stage in the national team under the auspices and participation by both the European and World Championships and Olympics - and for me it is of course also an opportunity to try to win something with the national team," states Nikolaj Jacobsen.
The Danish Handball Federation is delighted about the agreement with the Rhein-Neckar Löwen coach.
"We have followed a string of talented young coaches in a number of years, and we have in this period had a special eye for Nikolaj Jacobsen, who possesses all the competencies we demand both on and off the field, so we see it as a scoop that we now have this agreement in place," says the DHF Secretary General, Morten Stig Christensen.
Nikolaj Jacobsen has signed a contract that formally starts August 1, 2017 and runs until 30 June 2021, but recruitment will be at half-time in the first part of the period, he will continue as coach of the Rhein-Neckar Löwen until 1 July 2019. Nikolaj Jacobsen has had a good dialogue with his club that backs up the constellation, and until he takes over as coach full time, it becomes assistant coach, Henrik Kronborg to lift an additional part of the tasks.
"I am very pleased to put even more effort in team work and cooperation with the players, and I appreciate the confidence DHF and Nikolaj Jacobsen has shown me in this context. I very much look forward to working with Nikolaj, who created amazing results, even internationally, and I am sure we will be a professionally very strong team," says the assistant coach, Henrik Kronborg.
The constellation is new in DHF, which so far has had full-time A-national coaches, but there is no worry mines of the parties involved.
"I am absolutely confident that this cooperation will function. We are very pleased that Henrik Kronborg will go up in time and take more responsibility in an even closer relationship with the coach. We have in the process been in dialogue with, among other players and Team Denmark, and there is full support for this constellation all around in our system, " says Morten Stig Christensen and he is backed up by the next coach:
"Firstly, I see it as a positive challenge to perform both jobs because I between national teams collections have the opportunity to keep me sharp and prepare myself to the best players in the world. Secondly, I am very pleased that Kronborg has chosen to continue and take extra responsibility because he has both great experience as a coach and a good deal of tournament experience that I only have from player ago." says Nikolaj Jacobsen.
Nikolaj Jacobsen becomes the 18th Danish national coach. The list:
Aksel Pedersen (1938-1961)
Henry Larsen (1961-1962)
Steen Waage Petersen (1962-1964)
Gunnar Black Petersen (1964-1966)
Bent Jakobsen (1966-1970)
Knud Knudsen (1970)
John Bjørklund (1971-1972)
Jørgen Gaarskjær (1972-1976)
Leif Mikkelsen (1976-1987)
Anders Dahl-Nielsen (1987-1992)
Ole Andersen (1992-1993)
Ulf Schefvert (1993-1997)
Keld Nielsen (1997-1999)
Leif Mikkelsen (1999-2000)
Torben Winther (2000-2005)
Ulrik Wilbek (2005-2014)
Gudmundur Gudmundsson (2014-2017)
Nikolaj Jacobsen (2017-?)