Skanderborg lends Porup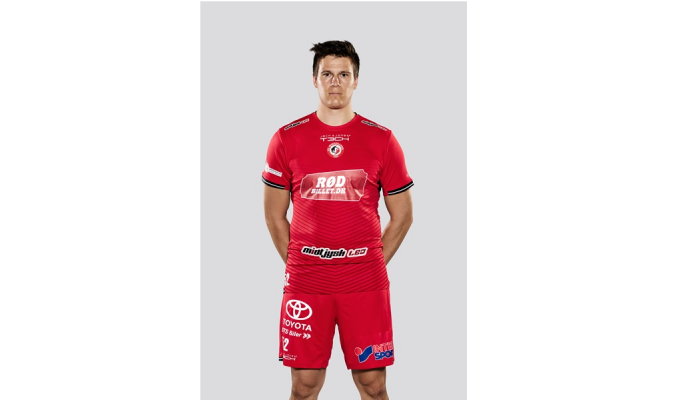 Photo: hcmidtjylland.dk
Written by: Rasmus Boysen
The 28-year-old Danish left back of HC Midtjylland, Rasmus Porup, has been loaned out to the league rivals Skanderborg Håndbold with immediate effect for the rest of the season.
The Danish league club Skanderborg Håndbold has today been reinforced with the hard shooting Danish left back Rasmus Porup, that changes on loan with immediate effect from the league colleagues HC Midtjylland.
After HC Midtjylland this summer signed the Norwegian national player Esben Lie Hansen has Rasmus Porup mostly been relegated to the bench
The Sports Manager of Skanderborg Håndbold Torben Væver is pleased with the unexpected opportunity to reinforce the squad mid-season, he says in a press release:
"We have in the recent period been hit hard on the back court players, who have struggled with injuries that have made a whole range of players not able to perform at the level we know they can, and we need to get points in the close matches. Therefore the addition of Rasmus Porup with immediate effect as a bit of a gift sent from heaven, and that means that we in the rest of the season has one more card to play out purely tactical.
We have many great very young players in the squad in Skanderborg, and here we get a player who has a little more experience and can hopefully contribute with a little more cynicism in the game. Rasmus is a decidedly long shooter with a very hard shot and he fits in well with the other profiles we have in the squad at the place. I hope that the approach of Rasmus Porup can help us to pick up some more points in the harsh December program, we would really like to get away from the boring places among the 3 last in the series. We have had a really nice and fair dialogue with both HCM and Rasmus about this change, and we look very much forward to getting Rasmus integrated in the squad already this week. It's not every day we get the chance to associate such a significant player at such short notice, so we are very pleased today, on top of the disappointing first half in Esbjerg yesterday."
The contract applies with immediate effect and Rasmus Porup start training immediately, and with a little luck Rasmus Porup should be able to play in next Wednesday's derby against Randers HH at home.