Nagy extends contract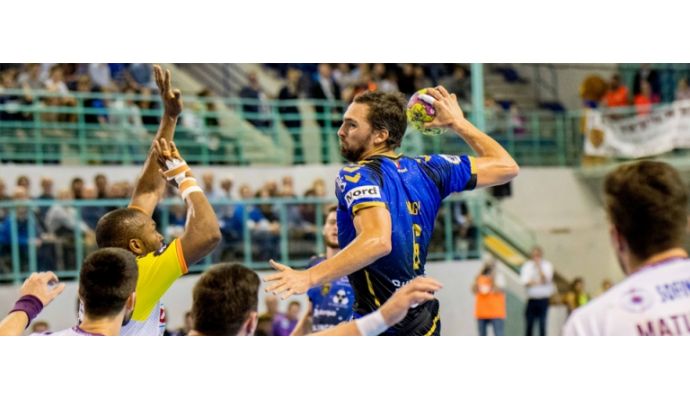 Photo: usdk.fr
Written by: Rasmus Boysen
The Hungarian national player Kornél Nagy extends his contract with the French League club US Dunkerque with 3 years.
After extending the contract with the experienced French left wing, Baptiste Butto, tuesday (read more here), another experienced player has extended his contract with the French League club US Dunkerque, Kornél Nagy.
The 31-year-old Hungarian left back came to US Dunkerque from Telekom Veszprém in 2011 and has ever since been an important player.
"Kornél is the most Dunkerquois foreigners of the club, where he has played since 2011. He adapted very quickly to our club and he is today one of the best guarantors of the values that are ours. Kornél is a versatile player, essential to the cohesion of our young group, that's why we have offered him this extension of three seasons until 2021. I count on him to show even more authority as he became a cadre and a key player on the team," the president of US Dunkerque, Jean-Pierre Vandaele, states in a press release.
"I amhappy to stay in Dunkerque. We have a nice team, a nice project for the future. I wanted to stay but I was not sure the club would want to keep me. But in talks with Patrick (Cazal, head coach, ed.) and Jean-Pierre, I understood that it was the case. There are two important things: the handball project and the life with my family. My children were born in Dunkerque, they are small Dunkerquois. On both levels, the best club, the best city, is here. Why change when you already have everything where you are. The club is ambitious. We started well this season, we are aiming for the Top 5 and the European Cup for next season. We will do everything to reach it in the second half of the season."
The head coach of US Dunkerque, Patrick Cazal, is also happy: "We try to build a project over the next 3 years. We wanted to keep the experience and the qualities of Koko (Kornel Nagy, ed.). It is a player who is valuable and able to defend and attack on all positions. What we particularly appreciated was his true determination to stay with us because efforts were requested. We are very happy to see that he feels good in Dunkerque, that he believes in our project and that he wants to bring all his experience to allow us to continue to move forward."
Kornel Nagy has besides US Dunkerque and Telekom Veszprém also played in Békési FKC and Dunaferr SE in Hungary. He has furthermore played 129 caps and scored 210 goals for Hungary, with whom he has participated in 3 European Championships and 2 World Championships. In 2014 he sensationally won the French Championship with US Dunkerque in front of clubs as Montpellier Handball and PSG Handball.
Kornel Nagy is a part of the Hungarian initial squad for the upcoming European Championship in Croatia in January. See the squad here.