Kasper Larsen returns to BSV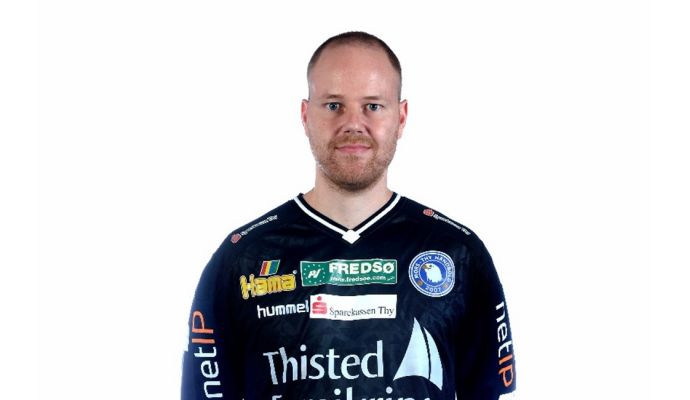 Photo: morsthy.dk
Written by: Rasmus Boysen
As rumored for long the Danish top side Bjerringbro-Silkeborg has signed a 3-year contract with the 28-year-old Danish goalkeeper of Mors-Thy, Kasper Larsen, who returns to BSV after this season.
Press release of Bjerringbro-Silkeborg:
After two seasons in Mors-Thy, Kasper Larsen will again be between the posts for Bjerringbro-Silkeborg from the coming season - A dream club for the goalkeeper, who last season was on the allstar team.
Bjerringbro-Silkeborg signs a golden keeper. Kasper Larsen left Bjerringbro-Silkeborg with gold, but from next season the goalkeeper returns home at the JYSK Arena. Kasper Larsen has signed a three-year contract with the club, where he will play until 2021.
"I enjoyed every training and every struggle, last time I was in Bjerringbro-Silkeborg, and then it ended with Danish Championship gold. Bjerringbro-Silkeborg is a really great club to be in with some big ambitions that fit very well with my own ambitions," says Kasper Larsen.
After a single season in Bjerringbro-Silkeborg, he changed to Mors-Thy in 2016. Here he was selected last season for the player's all-star team in the Danish League, but although Kasper Larsen had a really good time in Mors-Thy, the project in Bjerringbro-Silkeborg was simply too interesting.
"Bjerringbro-Silkeborg is the club I would like to go to. I'm grateful for everything Mors-Thy has done for me, but getting back to Bjerringbro-Silkeborg is a huge wish for me. Both in terms of the sporting setup, the people around the club and the whole squad, you just feel at home in Bjerringbro-Silkeborg.
Dreaming about more titles and the Champions League
The ambitions for the next three years in Bjerringbro-Silkeborg are big. Kasper Larsen will fight for more Danish titles, and he is dreaming about facing some of Europe's heavyweighters.
"I'm striving to play in the top and get some more medals, and of course I really want to try to be Danish champion again," says the future man in the Bjerringbro-Silkeborg goal.
"Last year I saw Bjerringbro-Silkeborg play some really cool matches in the Champions League, and of course I would like to try to play on the top stage. It's a dream for me to play against the best in Europe, and I hope that I can be allowed to participate."
Bredsdorff: Kasper is a super guy
Kasper Larsen still has a big star in and around Bjerringbro-Silkeborg, and therefore head coach Peter Bredsdorff-Larsen looks forward to the returning of the goalkeeper from the coming season.
"After a hard time with a concussion, Kasper Larsen's career kickstarted when he last stayed with us in a golden year. We had a good relationship with Kasper, and it has always been in my mind that Kasper Larsen could come back to us one day. We have watched Kasper close, and when we got the chance it was obvious to take a good man back."
"Kasper is in every way a super guy. He is serious and he is still under development. I expect him to meet some really good years. We are looking forward to making a long-term agreement with Kasper Larsen. He will be a big part of our success in the coming seasons," says Peter Bredsdorff-Larsen.
With Kasper Larsen in the goal, Bjerringbro-Silkeborg has one half of the goalkeeper team for the coming season in place. The club later presents Kasper Larsen's future mate in the goal.
Bjerringbro-Silkeborg says goodbye to their current goalkeeper duo after this season. Both experienced Søren Rasmussen and talented Sebastian Frandsen leaves the club. Read more here.