Karabatic named Player of the Year 2016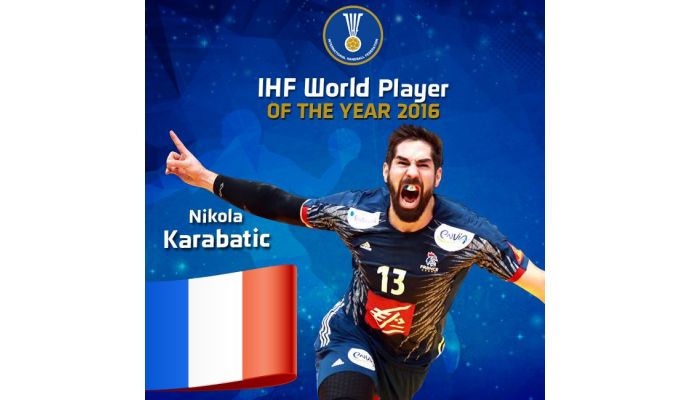 Photo: IHF.info
Written by: Rasmus Boysen
Nikola Karabatic is the first player ever to be Player of the Year three times!
Press release from IHF:
Thousands of handball fans took their chance to vote for their Players of the Year 2016 after a group of IHF experts and national team coaches had proposed five male and female players each, who they consider to be the best players in 2016.
The overall voting for the Players of the Year was based on three votes and taking all three of them into account – experts, media and fans – the winners of this year's Players of the Year vote are: Nikola Karabatic (FRA) and Cristina Neagu (ROU). For both of them it's the third Player of the Year award after Karabatic had won it already in 2007 and 2014 and Neagu in 2010 and 2015.
For the Player of the Year 2016 in the men's category, there was no doubt at all who the best player in 2016 was, with Nikola Karabatic ranking first in all three votes. On places two and three, Mikkel Hansen (DEN) and Andreas Wolff (GER) were head-to-head and in the end it were the fans who tipped the scales. With 17.23% in the fan vote, Wolff could claim second place ahead of Hansen with 16.13%. Domagoj Duvnjak (CRO) ranked fourth while Sander Sagosen (NOR) finished far behind on fifth place.
Below you can find a short overview of the winners. If you want to know more about all nominees and their 2016 performances click here.
Both Players of the Year 2016 were voted Most Valuable Player and were part of the All-star Team of an event on more than one occasion and won the national championships with their respective clubs several times. The list of achievements is thus only an overview of the most important ones with the national and club teams.
Nikola Karabatic
Nationality: France
Date of birth: 11 April 1984
Current club: Paris Saint-Germain Handball
Achievements: winner of 2008 and 2012 Olympic Games, silver at Rio 2016, World Champion 2009, 2011, 2015 and 2017, bronze at 2003 and 2005 World Championships; gold at EHF EUROs in 2006, 2010 and 2014, bronze in 2008; 3x EHF Champions League winner (2003, 2007, 2015); 2x Super Globe champion (2013, 2014); 3x IHF Player of the Year (2007, 2014 and 2016)
History:
1988 Veselin Vujović, Yugoslavia
1989 Kang Jae-Won, South Korea
1990 Magnus Wislander, Sweden
1991 No vote
1992 No vote
1993 No vote
1994 Talant Dujshebaev, Russia
1995 Jackson Richardson, France
1996 Talant Dujshebaev (2), Spain
1997 Stéphane Stoecklin, France
1998 Daniel Stephan, Germany
1999 Rafael Guijosa, Spain
2000 Dragan Škrbić, Yugoslavia
2001 Yoon Kyung-Shin, South Korea
2002 Bertrand Gille, France
2003 Ivano Balić, Croatia
2004 Henning Fritz, Germany
2005 Arpad Šterbik, Serbia and Montenegro
2006 Ivano Balić (2), Croatia
2007 Nikola Karabatić, France
2008 Thierry Omeyer, France
2009 Sławomir Szmal, Poland
2010 Filip Jícha, Czech Republic
2011 Mikkel Hansen, Denmark
2012 Daniel Narcisse, France
2013 Domagoj Duvnjak, Croatia
2014 Nikola Karabatić (2), France
2015 Mikkel Hansen (2), Denmark
2016 Nikola Karabatić (3), France