Dinart named Coach of the Year 2016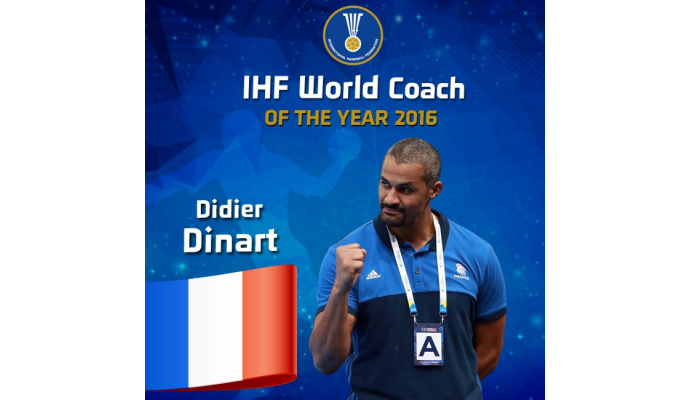 Photo: ihf.info
Written by: Rasmus Boysen
Didier Dinart is named IHF Coach of the Year 2016.
Press release from the International Handball Federation:
After a group of IHF experts and national team coaches had nominated five coaches of men's and women's teams each, who they consider to be the best of the best in the handball world, fans and media all over the world had the chance to vote for their Coaches of the Year 2016.
Over two weeks, thousands of handball fans took their chance to cast a vote and taking all three votes – experts, media and fans – into consideration, the result is now final. Didier Dinart follows in the footsteps of his predecessor Claude Onesta, who himself won the award in 2009 and 2010.
The Coach of the Year 2016 in the men's category was not decided until the last voting day when Didier Dinart (FRA) could get ahead of Veselin Vujovic (MNE) in the fan vote (31.35%) and passed Christian Berge in the media vote (22.58%). Overall, the Frenchman ranked first in the end, while Christian Berge from Norway comes in second, Vujovic third and Icelanders Dagur Sigurdsson and Gudmundur Gudmundsson fourth and fifth, respectively.
Didier Dinart
Nationality: France
Date of birth: 18 January 1977
Coach of: France men's national team
Achievements: EHF EURO 2014 gold, winner of 2015 World Championship and Olympic silver at Rio 2016 as assistant coach, 2017 World Championship winner