Janc is wanted by the best in the world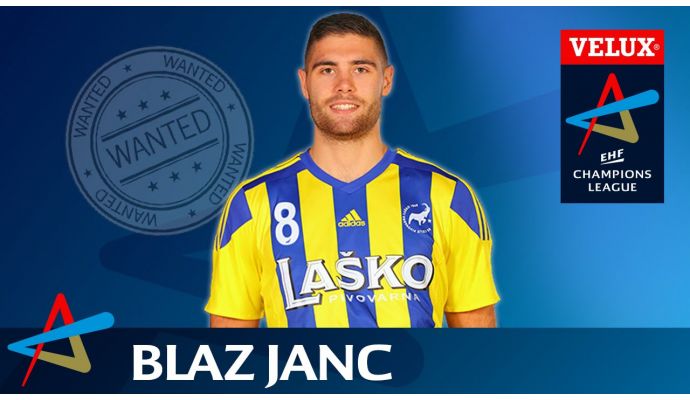 Photo: ehfcl.com
Written by: Rasmus Boysen
The 20-year-old Slovenian shooting star Blaž Janc is wanted by the best clubs of the planet, but has a contract with RK Celje to the summer of 2019.
The Slovenian national head coach, Veselin Vujović, surprised everyone, when he deselected the experienced world class players Dragan Gajić and Gašper Marguč and gave the chance for the talented right wing Blaž Janc at the Olympic Games in Rio in the summer of 2016.
But Blaž Janc seized the opportunity, was one of the best on his position at the tournament and he is now regarded as one of the world's greatest talents.
The interest from all of the world's greatest clubs has subsequently exploded. In an interview with SIOL.si the young and ambitious left hander, who is ready for the World Championship in France in a few days, talks about the future.
The Polish Champions League winners Vive Tauron Kielce has previously confirmed interest in Janc (read more here), but it is not certain he joins a new club after this season:
"No, not necessarily. I might as well stay in Celje. Depending offers I have sweet worries. From the selection of the top five clubs in the world (Blaž Janc has previously mentioned FC Barcelona, PSG, Kiel, Kielce and Veszprem as the top five clubs in the world. Read more here, ed.) I received four bids. But it does not all depend on me. In Celje I have a two-year contract, so the club also decides," he tells SIOL.si.
Of the top 5 clubs Paris Saint-Germain has for now been most concrete:
"Of the five only from Paris I got a concrete offer. Barcelona is in the game, Kiel is an opportunity, Veszprem also. All the greatest clubs of the handball scene are interested me. These things are not based on rumors."
The Slovenian top club RK Celje has in publicly stated, that they want to extend the current contract of Blaž Janc:
"The club has told me that they want to build a team around me. In this regard, I have not yet decided whether to extend or go elsewhere. Options are open. I think it will soon be clear after the World Championship," the promising player concludes.
Read also: Rumor - Blaz Janc to Kielce.
Fact box:
Name: Blaž Janc
Date of birth: 20.11.1996
Nationality: Slovenian
Position: Right wing/right back
Height: 185
National caps: 14 (60 goals)
Clubs:
RK Celje, Slovenia