
10:04 29-September-2016
The Rock stays in Nantes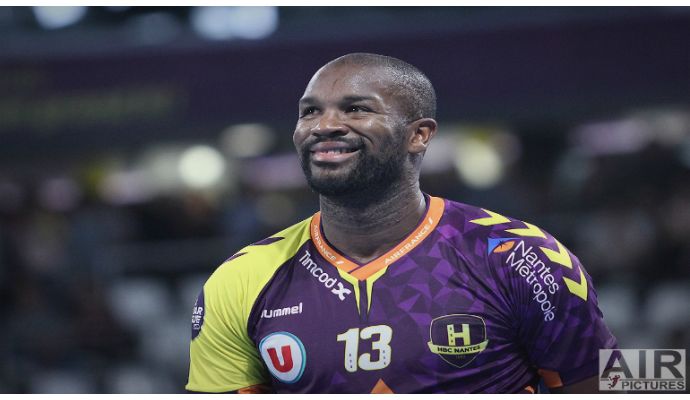 Photo: hbcnantes.com
Written by: Rasmus Boysen
The defence specialist of the French top club HBC Nantes, Rock Feliho, extends his contract to the summer of 2019.
The physically strong french left back had a contract expiration with the Champions League participants HBC Nantes at the end of this season, but the two parts have agreed on a new deal valid until the summer of 2019.
The 34-year-old captain of HBC Nantes, who is borned in Bénin, Rock Feliho, joined the ambitious French club from HBW Balingen-Weilstetten in 2010.
The chairman of HBC Nantes, Gaël Pelletier, is happy to keep the former French youth national player, who has been selected as the best defender in the French league 3 times:
"Selecting the captain is always difficult for a club because he must be the soul of the club to embody the values, and that has been the case with Rock (Feliho, red.) from the beginning. It was important for us to continue the adventure together. We managed to move forward together in these seven years of cooperation, and we think we can still grow together and go even higher. "
Also Rock Feliho, who previously has played in TSG Münster and HBW Balingen-Weilstetten in Germany and Seléstat and Fenix Toulouse in France, is happy for the new agreement:
"I am very happy to extend the adventure with Nantes. It is a love story which continues. After my journey to Germany, coming to Nantes certainly was the best decision I have taken in my career. I feel good here, my family too. It was easy to agree with the president, it is always easier when everyone wants to continue to work together. I am fortunate to have confidence in the leaders and my team mates, that allows me to develop completely ... And it is shown on the pitch. Since my first season in 2010, I measure the whole journey: we have done progress, and it is a beautiful pride! I hope that this will continue. I want to see how far we can go," "The Rock" says to the website of HBC Nantes.