Krištopāns 3 years in Vardar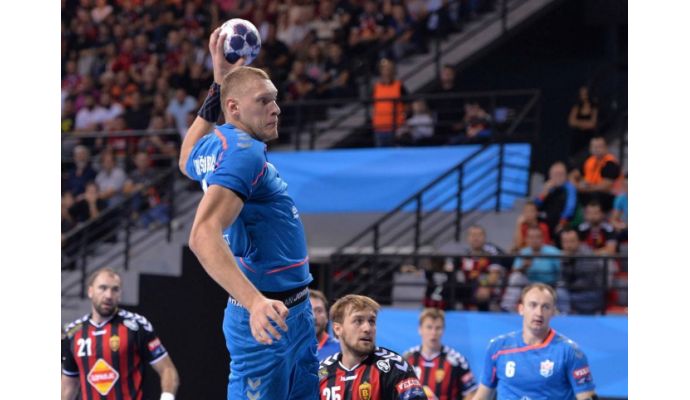 Photo: rkvardar.mk
Written by: Rasmus Boysen
The Latvian giant of Meshkov Brest Dainis Krištopāns has signed a 3-year contract with RK Vardar from next season.
As announced as a rumor at October 13, the 26-year-old Latvian right back Dainis Krištopāns has signed a 3-year contract with the Macedonian top club RK Vardar from next season to 2020 to replace the Spanish right back Alex Dujshebaev, who moves to the Polish Champions League winners Vive Tauron Kielce.
The 215 centimeters tall Latvian national player started his professional career in the Slovakian club Tatran Presov, where he played for four years. After five years in Slovakia he transfered first to Qatar where he remained for several months, and then went to an ambitious club from Belarus, Meshkov Brest. There he became champion of Belarus and won the double.
"It is always a pleasure when you can confirm that you have managed to bring a player who is already proven to your club, but still can progress together and look forward to new victories. Dainis Kristopans comes to Vardar as a major boost for the team, not only in attack but also in defense. We believe that his arrival will contribute to an even better performance of the team in defense and attack, and he will show his own talents and qualities, said CEO of RK Vardar, Davor Viana, in a press release.
Kristopans last year had his best season in the Champions League, scoring 62 goals. This season he scored 23 goals in five matches.
"I spent two outstanding years in Brest on a motivated and promising team. Now is the time for continuing on my professional career, so I chose Vardar. There were many other interested top clubs from Germany, Spain, Hungary and Belarus. But Vardar offered the best conditions for the promotion as a professional, and it is one of the most ambitious clubs in the world right now, said the Latvian right back.