TTH sells Birkefeldt to foreign club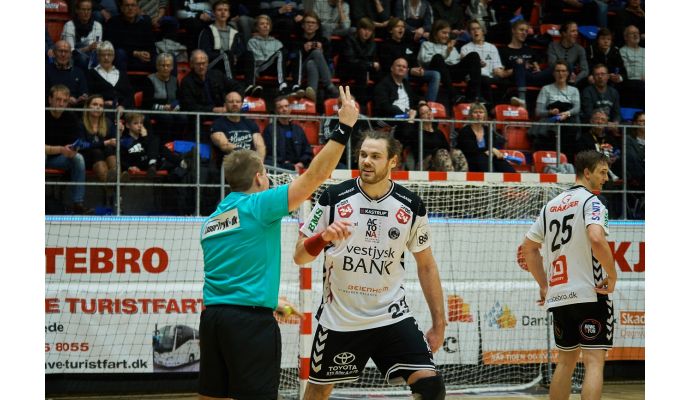 Photo: tthholstebro.dk
Written by: Rasmus Boysen
The Danish League club TTH Holstebro has sold the Danish right back Simon Birkefeldt to a foreign club.
Press release from TTH Holstebro:
Simon Birkefeldt will stop in TTH Holstebro after this season.
TTH's right back Simon Birkefeldt is in his fifth season in the white jersey, and it will also be the last this time, when he moves to a foreign club.
"I have received an offer I could not reject. I'm really glad that TTH has given me this chance. I can not imagine playing for other Danish clubs than TTH, but it has always been a dream to come abroad and try another level. So it's not a rejection, but rather about an option," says Simon Birkefeldt, who will not say goodbye.
"I would rather say see you later," he says, continuing:
"I think it's incredibly good at TTH and in Holstebro. I have had a fantastic host family and some amazing teammates and it's a great experience to be in a city where you can feel a "energy" for the handball. At the same time I have played the Danish Championship final, Cup finals and the Champions League, which have been great experiences. All I need is to win something and that's the clear goal in this, my preliminary last, season in TTH."
TTH Director John Mikkelsen wishes Simon Birkefeldt good luck abroad.
"Simon has been a big win for TTH Holstebro both on and off the pitch. He has developed a lot in his time in the club and has been an important factor in the excellent results the team has delivered in the past year," says John Mikkelsen and adds:
"That we can now send another player to a bigger league than the Danish shows that we in TTH are really good at developing players for profiles. It is in our DNA, and Simon's transfer emphasizes this."
TTH Holstebro has received a compensation for Simon Birkefeldt's transfer as he was on contract for another season.
According to the Danish newspaper Dagbladet Holstebro-Struer the 26-year-old Danish right back, Simon Birkefeldt, joins an unnamed German Bundesliga club. Read more here.