Simon Ernst to Füchse Berlin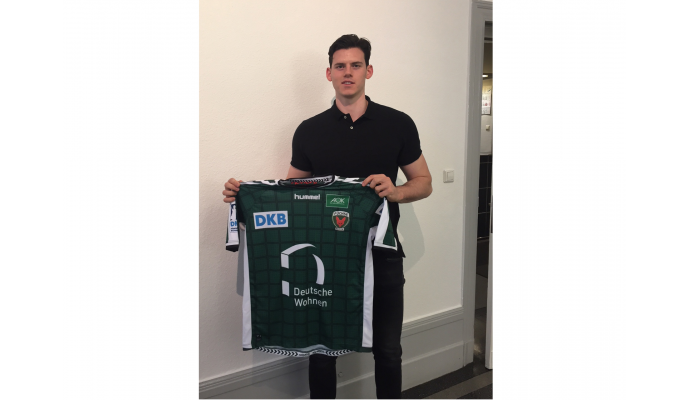 Photo: fuechse.berlin
Written by: Rasmus Boysen
As reported earlier today the German national player Simon Ernst joins Füchse Berlin from next season on a 2-year contract.
Press release from Füchse Berlin:
Füchse Berlin are tinkering with the future. The 23-year-old Simon Ernst from the VfL Gummersbach is committed to the new season. The national team player at the weekend passed the medical check in Berlin and signed a two-year contract with the leaders of the Bundesliga. Simon Ernst was examined by Füchse's physician Dr. Jürgen Bentzin
"Simon Ernst is our absolute dream player. He fits 100 percent into our team," says Füchse CEO Bob Hanning about the latest transfer coup. "We have already noticed in the games of the youth championships. We have always been watching Simon and been on the screen. We are very happy that a German talent such as Simon Ernst has chosen Füchse Berlin despite several other offers. This makes us proud and shows that we are successful with our idea and concept."
On Saturday, the European champion from 2016 was in Berlin and graduated from Team Doctor Dr. Jürgen Bentzin the medical examination. Subsequently, Ernst signed a contract for the summer of 2018 over two years. Afterwards, he said happily: "The overall sporting package has moved me to this decision. The ambitions of Füchse and mine cover each other. I want to play with the club internationally and participate in the development of this great club. "
Paul Drux and Fabian Wiede, with whom he became Junior European Champion in 2012 and 2014, also moved to the pace: "I know Paul and Fabi for a very long time. They have also strengthened my opinion. "
At the moment, Ernst cured a cruciate ligament in the knee, which came in June. In February, the 1.95 meter big playmaker wants to stand on the floor again. Füchse sports coordinator Volker Zerbe: "The injury did not prevent us from this transfer. We are convinced that we will have a lot of fun with Simon. He is a player with great quality - both in attack and defense. We get with him a young national player who has even a lot of potential."
Ernst still has a contract in Gummersbach until 2018. Before his time at VfL, he played between 2012 and 2014 at TSV Bayer Dormagen. VfL-Sportchef Christoph Schindler: "For us as a club the change is of course a pity. Nevertheless, the step is understandable. Simon has matured in Gummersbach as professional and national player. We wish him all the best for his future trip to Füchse in the name of VfL Gummersbach. "