Icelandic right back stays in the Bundesliga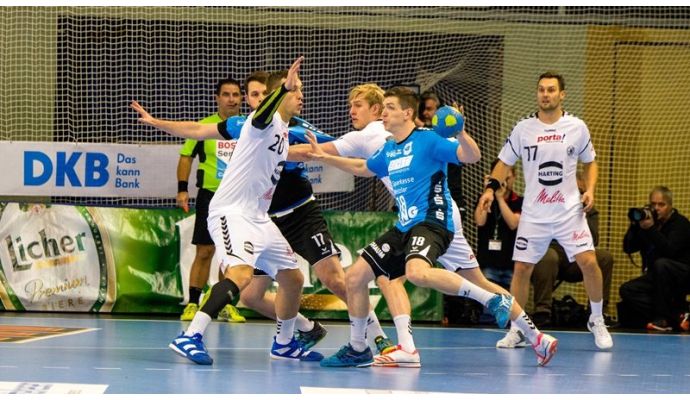 Photo: http://www.tvh1.de/
Written by: Rasmus Boysen
The 27-year-old Icelandic right back Ragnar Jóhannsson extends his contract with the German Bundesliga-side TV 05/07 Hüttenberg to the summer of 2020.
Handball Bundesliga TV 05/07 Hüttenberg has extended the contract with his Icelandic right back Ragnar Jóhannsson prematurely until the summer of 2020. The new contract is valid no matter of Hüttenberg stays in the Bundesliga or relegates to the 2nd Bundesliga. Thus, the TVH, after the extension of Tomáš Sklenák's contract a few weeks ago, now also in the right back position has personal security.
Jóhannsson moved from the Icelandic League club FH Hafnarfjordur to TV 05/07 Hüttenberg in the second half of the 2014/15-season and remained after the relegation to the 3rd league in the club. In 45 2nd Bundesliga matches the back court player scored 168 goals.
Ragnar Jóhannsson stated the following in a press release from TV 05/07 Hüutenberg: "I was very satisfied with the offer of TV Hüttenberg. I always have a lot of fun with the team, I feel very comfortable here and I'm looking forward to playing for TVH Handball. "
Head coach of TV Hüttenberg, Emir Kurtagic: "I am of course pleased that Ragnar has extended his contract here in Hüttenberg. I hope that the extension now releases new forces and he can concentrate fully on the handball again. Then he will continue to be an important player for TV Hüttenberg."
Sports Director of TV Hüttenberg, Torsten Menges: "For me, Ragnar - after Tomáš Sklenák - is one of the key players for us. I am very glad that he has signed a extension with us. This shows that he feels very comfortable overall in Hüttenberg. He is fully integrated within the team, the language is now great and he is also a very good defensive player. "