
11:11 30-September-2017
Cervars first Croatian squad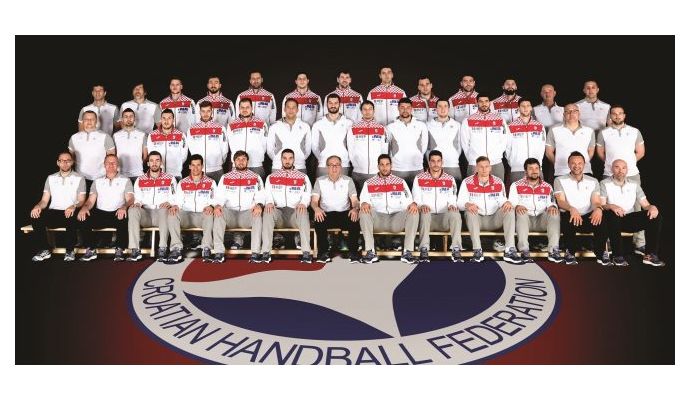 Photo: hrs.hr
Written by: Rasmus Boysen
The new-old Croatian national coach, Lino Cervar, has picked 21 players for his first training camp with the Croatian national team in October.
Press release of the Croatian Handball Federation, HRS:
The Croatian men's senior handball team coach Lino Cervar has published a list of 21 players for a national team camp scheduled for October 22, 2017.
Croatian handball players gather on October 22nd at 17:00 in front of Hotel Panorama in Zagreb, and will gather until October 29th. The training will take place in Zagreb, and within this representative week are waiting for two friendly matches against Slovenia. The first match scheduled for October 26 at the Stožica Hall in Ljubljana and the second match will be held two days later, on October 28, at the Zagreb Arena.
The Croatian men's senior handball team coach, Mr. Lino Červar, calls the following players:
Goalkeepers:
Ivan Stevanovic - Kadetten Schaffhausen, Switzerland
Ivan Pešić - Meshkov Brest, Belarus
Mirko Alilović - Telekom Veszprem Handball, Hungary
Right wings:
Zlatko Horvat - PPD Zagreb, Croatia
Ivan Čupić - RK Vardar, Macedonia
Left wings:
Manuel Štrlek - PGE Vive Kielce, Poland
Lovro Mihic - Orlen Wisla Plock, Poland
Line players:
Marino Marić - MT Melsungen, Germany
Željko Musa - SC Magdeburg, Germany
Krešimir Kozina - Frisch Auf Göppingen, Germany
Igor Vori - PPD Zagreb, Croatia
Defenders:
Jakov Gojun - Füchse Berlin, Germany
Left backs:
Marko Mamić - PGE Vive Kielce, Poland
Stipe Mandalinić - PPD Zagreb, Croatia
Halil Jaganjac - RK Metalurg, Macedonia
Playmakers:
Domagoj Duvnjak - THW Kiel, Germany
Igor Karačić - RK Vardar, Macedonia
Luka Cindric - RK Vardar, Macedonia
Right backs:
Marko Kopljar - Füchse Berlin, Germany
Luke Stepancic - Paris-Saint Germain, France
Luka Šebetić - Tremblay En France Handball, France
The expert leadership, along with Lino Červar, consists of coaches Hrvoje Horvat, Vlado Šola, Zlatko Saračević and Ninoslav Pavelić, fitness coaches Pero Kuterovac and Mirko Krolo, PhDs Tomislav Kukin and Krešimir Rotim, physiotherapists Damir Kajba, Filip Šimunović and Kristijan Kljaić, spokeswoman Ivica Maraš, cameraman Zoran Ćulk and technical director of Ivica Udovičić.
Lino Červar's list of players was only shortly announced by the list and will at a press conference be presented to the public in detail:
"This is a list of players for the upcoming gathering in the representative week in October, where we play two friendly matches against Slovenia. Of course, this list may change over time if there is a chance of a possible failure because of injury. At the press conference next week, I will explain my choices and decisions, and I will say more about our expectations and talk about the matches against Slovenia."
Domagoj Duvnjak returns to the national team after a long injury. Furthermore, Mirko Alilovic and Igor Vori are back on the national team.
This week it became public knowledge that Lino Cervar has left the Macedonian club RK Metalurg to go to Zagreb and concentrate on the Croatian national team. Read more here.