Allrounder stays in Melsungen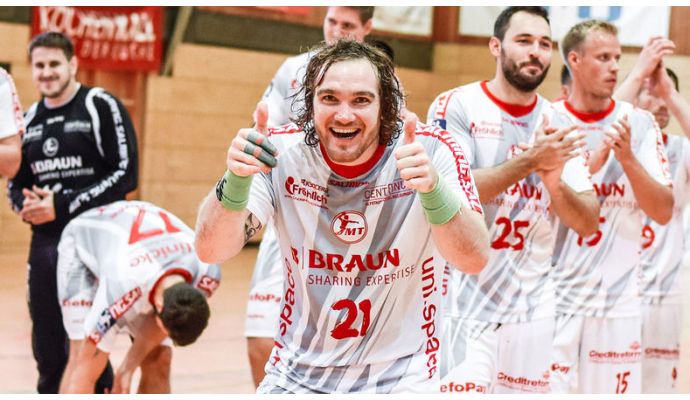 Photo: mt-melsungen.de
Written by: Rasmus Boysen
The German allrounder Timm Schneider has extended his contract with the German Bundesliga-club MT Melsungen to the summer of 2020.
MT Melsungen has extended the contract with the 29-year-old German allrounder Timm Schneider for another two years until the summer of 2020.
"You want such a player as a coach. Timm is a big guy, you can rely on him. That goes for the defense as well as for the attack. He is undoubtedly one of the most valuable players in our team. It was only logical that we secure our services for another two years," says the head coach of MT Melsungen Michael Roth in a press release from the club.
Timm Schneider came to Melsungen in 2015 from TBV Lemgo. "My wife, our dog and I actually feel very well here and together we are really happy that we can continue this story for another two years."
For Timm Schneider, it's simply the "total package MT", which he enjoys: "I get on well with all the other players. In addition, the MT is a very well-run club. Everyone in charge makes you feel like you are part of this family. Yes, I am very happy that I can continue to be involved."
His abdominal muscle problems are largely overcome, but his return to the court was made even more difficult by a cold. "I want to regain the shape I had before the injury as soon as possible. Against the Rhein-Neckar Löwen things went well again, but not against Erlangen at all. I think that on Thursday against Friesenheim we will show ourselves from the better side in front of our own spectators."
Timm Schneider fact box:
Birthday / Birthplace: 15.06.1988 / Gießen
Nationality German
Size / weight: 1.96 m / 114 kg
Position / No .: Playmaker / 21
Previous clubs: HSG Pohlheim, HSG Wetzlar, TV Huttenberg, TBV Lemgo.
International: 1 international cap (29.10.14 against Finland, 1 goal)