Norwegian national player to HCM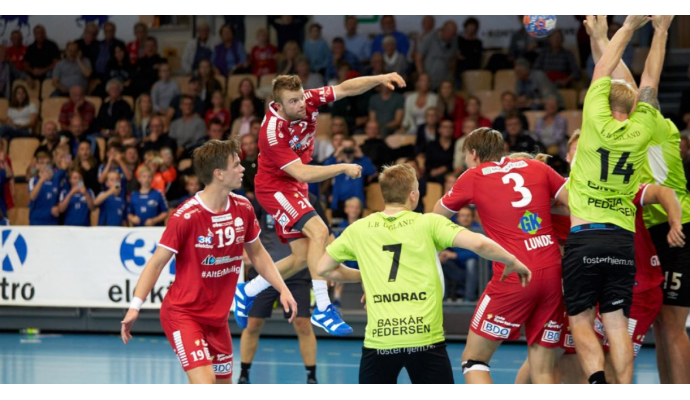 Photo: haslumhk.no / Espen Hildrup
Written by: Rasmus Boysen
The Norwegian national player Magnus Søndenå, who plays in the Norwegian club Haslum HK, joins the Danish League club HC Midtjylland on a 2-year contract to replace Dennis Kirkegaard from next season.
Press release from HC Midtjylland:
Norwegian Magnus Søndenå changes from Haslum HK to HC Midtjylland for the coming season.
HC Midtjylland, with the addition of Magnus, has another young ambitious player whose career is in great development. Magnus debuted on the Norwegian A-national team in 2016 and has since played 8 caps and scored 26 goals. In addition, Magnus has played 37 youth national caps.
Sports Director of HC Midtjylland Morten Secher comments:
"We are really pleased that we have been able to draw Magnus to Herning for the next 2 seasons. There is no doubt that Magnus is a player on the road to absolute international class. Due to Magnus's ability to play with both left and right hand, his competencies range widely, from playing the playmaker to the right wing. Magnus is not meant to be at a single position but has his main position on the right wing and will be able to complement both the right back and the playmaker."
Magnus has played the last 3 seasons in Haslum HK and now felt that time was ready to try out forces with a bigger and better league than the Norwegian.
On his change, Magnus says:
"When I got the opportunity to come to HC Midtjylland, I immediately found it interesting. I have got the impression that HC Midtjylland is an ambitious club and the whole set-up around the team and the club appeals to me a lot. I have been following the club in recent years and really think it's an exciting project. The team is new but has already won a title and has established itself in the league. I am quite sure that in HC Midtjylland I can continue my development and contribute to good results. I have visited Herning and the city has accused me a lot. I therefore look forward to moving to the city this summer."
The addition of Magnus means that Dennis Kirkegaard will leave HC Midtjylland by the end of the current season.