Leipzig signs Danish right wing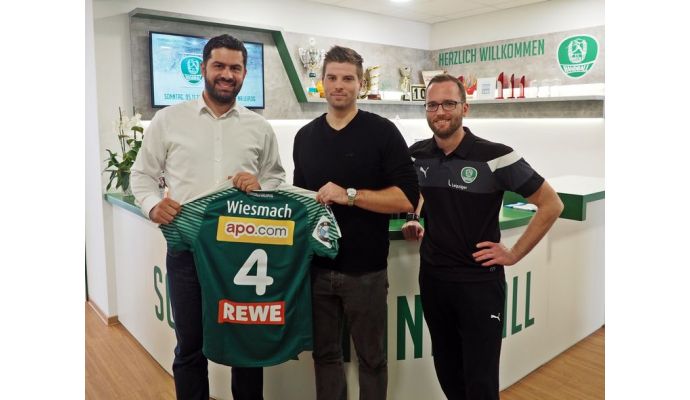 Photo: http://www.scdhfk-handball.de
Written by: Rasmus Boysen
The German Bundesliga club SC DHfK Leipzig has signed a 2-year contract with the Danish right wing of the Danish champions Aalborg Håndbold, Patrick Wiesmach, from next season. He replaces the German right wing Peter Strosack.
Press release from DHfK Leipzig:
The first new signing for the 2018/19- season has been fixed. The handballers of the SC DHfK Leipzig have signed the Danish national player Patrick Wiesmach Larsen from the Danish champions Aalborg Håndbold. The 27-year-old right wing successfully completed the medical check at the Leipzig University Hospital yesterday and receives a contract until 2020.
Patrick Wiesmach has so far played 19 international caps (43 goals) for Denmark. In the current Champions League season, he has already scored 25 goals for Aalborg in the first five games, including seven goals in the tight 27-26 away defeat against THW Kiel. From 2010 to 2016 the fast and varied right-wing was active at the Dansih club TTH Holstebro, where he became the top scorer of the Danish League in 2015/16, and among others played together with the Bundesliga stars Michael Damgaard and Petar Nenadić.
"The Bundesliga has always been my dream. I would like to prove myself in the strongest league of the world and return to the national team. The SC DHfK Leipzig is a super club, which is developing dynamically in the direction of the Bundesliga top and plays a fast attractive handball, with which I can fully identify. I'm really looking forward to the new city and the club," said the 27-year-old newcomer.
"Patrick is a player of high individual quality who has proved his class in the Champions League this season. We are delighted that we have been able to commit such a good player," said head coach André Haber.
The SC DHfK is therefore heading for the next season with the duo Lucas Krzikalla / Patrick Wiesmach and will not use the contract option with Peter Strosack. "Peter has developed very well over the last two years, he has excellent athletics and has enriched our team very much, so this decision is anything but easy for us," says Managing Director Karsten Günther, who will focus on the remaining eight months with him in the DHfK team: "We have deliberately decided to put a new impetus on this position and we are very pleased that Patrick will be playing for SC DHfK Leipzig from next season. He has already gained a lot of international experience from which our team and especially Lucas Krzikalla can profit in the coming years. "