Sweden: Andrésson's first squad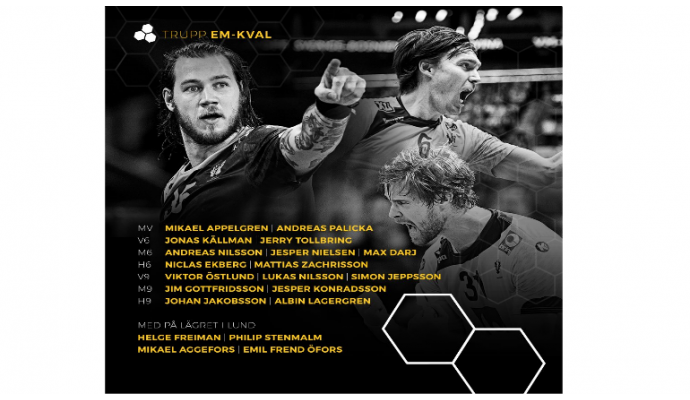 Photo: Handbollslandslaget (@hlandslaget) | Twitter
Written by: Rasmus Boysen
Kristján Andrésson has named his first squad as a Swedish national coach.
16 players are chosen for the European Championship qualifiers against Montenegro in Lund, Sweden on 3 November and against Slovakia in Kosice, Slovakia 5th November. Furthermore, 4 players have to train with the squad before the matches, when the Swedish national team is gathered in Lund, Sweden on 30 November.
The new Icelandic coach, Kristján Andrésson, says the following of the selection:
"The players who are selected now are automatically not selected for the World Championship, and the once who are not selected now is not out of the World Championship. Much can happen in the coming months and there are many players who knocks at the door."
Goalkeepers:
Andreas Palicka, Rhein-Neckar Löwen, Germany, 56/0
Mikael Appelgren, Rhein-Neckar Löwen, Germany, 44/1
Left wings:
Jonas Källman, MOL-Pick Szeged, Hungary, 218/636
Jerry Tollbring, IFK Kristianstad, Sweden, 10/37
Left backs:
Viktor Östlund, TTH Holstebro, Denmark, 36/94
Lukas Nilsson, THW Kiel, Germany, 24/67
Simon Jeppsson, Lugi HF, Sweden, debutant
Playmakers:
Jim Gottfridsson, SG Flensburg-Handewitt, Germany, 32/98
Jesper Konradsson, Alingsås HK, Sweden, 25/29
Right backs:
Johan Jakobsson, SG Flensburg-Handewitt, Germany, 111/242
Albin Lagergren, IFK Kristianstad, Sweden, 5/7
Right wings:
Niclas Ekberg, THW Kiel, Germany, 135/544
Mattias Zachrisson, Füchse Berlin, Germany, 83/149
Line players:
Andreas Nilsson, Telekom Veszprém, Hungary, 104/235
Jesper Nielsen, Paris Saint-Germain, France, 73/87
Max Darj, Alingsås HK, Sweden, 5/7
Reserves:
Philip Stenmalm, left back/defender, KIF Kolding-København, 30/52
Helge Freiman, playmaker, GWD Minden, Germany, 10/16
Mikael Aggefors, goalkeeper, Aalborg Håndbold, Denmark, 7/0
Emil Frend Öfors, left wing , Alingsås HK, Sweden, debutant