SønderjyskE signs talented pivot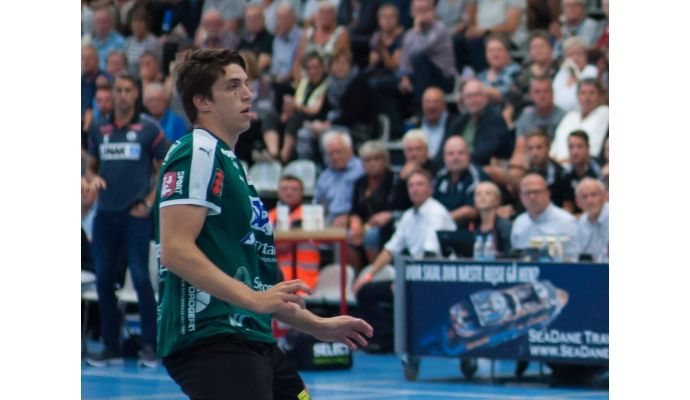 Photo: soenderjyske.dk
Written by: Rasmus Boysen
The Danish League club SønderjyskE from next season replaces the Swedish pivot Adam Nyfjäll with the talented Danish pivot Frederik Ladefoged.
The 21-year-old Danish pivot Frederik Ladefoged from next season leaves the Danish League club Skanderborg Håndbold to join the League rivals SønderjyskE, where he has signed a two-year contract to the summer of 2020.
Frederik Ladefoged was in the Danish youth national team who won silver at the World Championship this summer in Algeria.
"Frederik is a talented pivot with great physics. He has now had a big role in Skanderborg Håndbold for two seasons, and we think he is comfortable with us. Frederik also has a great routine from various youth national matches, and last time he was an important factor in the great World Championship silver medal for our U21 national team," explains head coach of SønderjyskE, Kasper Christensen, in a press release.
Frederik Ladefoged, who has played 35 youth national caps, is over two meters tall and the weight is 106 kg, but he is a moving player.
"He is a strong two-way player who, despite his size, is also a skilled counter attack player, which fits well with us," says Kasper Christensen.
The 21-year-old striker moved in the summer of 2016 from TTH Holstebro to Skanderborg Håndbold. In the summer of 2018, the residence in Fredericia will be replaced with Sønderborg.
"I have chosen to move to SønderjyskE, as I see it as an obvious opportunity to continue my development and at the same time become part of a team that interferes in the fight for a playoff spot. I'm really looking forward to playing in Broager Sparekassen Skansen, which is undoubtedly one of the country's best homegrounds," says Frederik Ladefoged.
Frederik Ladefoged replaces the Swedish pivot Adam Nyfjäll, who from next season joins the Swedish champion IFK Kristianstad (read more here).