
11:48 29-September-2017
CSM Bucuresti changes coach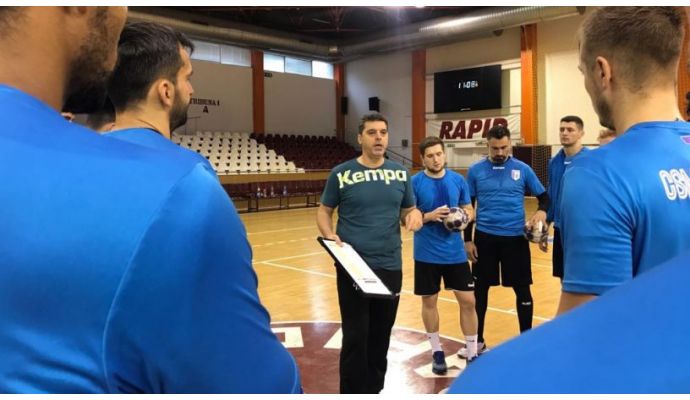 Photo: http://csmbucuresti.ro/
Written by: Rasmus Boysen
Vlad Caba replaces Pablo Campos Suñen as head coach of the Romanian top club CSM Bucuresti with immediate effect.
Press release from CSM Bucuresti:
CSM Bucuresti has, since today, 29 September 2017, a new head coach in the person of Vlad Caba. After an extensive analysis of the developments in this season's debut, the management of the CSM Bucuresti considered that there was a need for a change in the vice-champions team to bring a new breath.
As a result, the CSM Bucuresti stops the cooperation with Pablo Campos Suñen and Xavier Salvador Jauma, who is replaced by the Romanian coach Vlad Caba. The team goals for this season remain unchanged. CSM Bucharest thanks the two coaches for their contribution to the formation of the team and wishes them success in their career.
Vlad Caba has a great experience in Romanian handball. He has won the European Challenge Cup competition in 2015, as well as a silver medal and a bronze medal in the National League, all with HC Odorhei. He also coached the teams of Politehnica Timişoara, Minaur Baia Mare and TV Emsdetten (Germany). At the level of national teams, Caba coordinated the Romanian junior and youth teams (2000-2001 and 2005-2007), as well as the Sighisoara Center for Excellence in 2008-2009.
Vlad Caba: "I responded with great surprise and joy at the same time at the request of the management of CSM Bucuresti. I am ready to do my best to achieve the goals and to join this project as soon as possible. I am very determined to do my best and to put all my skills in the game. I am convinced that there is a very high potential, there are players who have confirmed internally, joined by players with vast international experience. The idea is that a good team does not mean the sum of names, but it means subordinating the team's interests and applying the principles of the game. This is done gradually, but the problem is that it must be done by winning. We are not allowed to use any alibis, it is very important to start winning."
The first match on the bench of CSM Bucuresti for Vlad Caba will be held tomorrow, September 30, starting at 16:00, at the Rapid Hall, against the Politehnica Timişoara team.
CSM Bucuresti has lost 3 of the first 4 matches in the Romanian League, where the club is placed 10th.
CSM Bucuresti has for this season signed the Romanian left wing Chike Onyejekwe, line player, András Szász and left back Ionuț Ramba, the Spanish playmaker Aleksandr Tioumentsev and left back Antonio García Robledo, the Slovenian right back Gašper Hrastnik, the Croatian goalkeeper Mate Šunjić and the Brazilian left back Leonardo Santos.