Fast wing joins Danish champions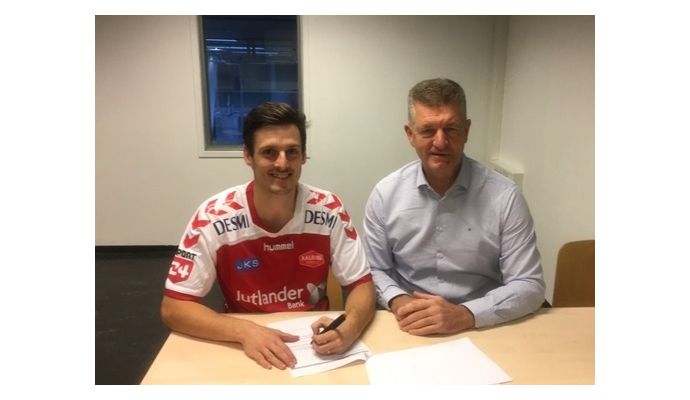 Photo: aalborghaandbold.dk
Written by: Rasmus Boysen
As rumored on Hballtransfers.com earlier the Danish right wing of GOG, Mark Strandgaard, replaces Patrick Wiesmach in Aalborg Håndbold after this season.

Press release from Aalborg Håndbold:
The 30-year right wing Mark Strandgaard changes from GOG to Aalborg Håndbold on a 3-year contract valid from the summer of 2018.
It will be the fast-paced and technically skilled Mark Strandgaard who will replace Patrick Wiesmach, who from next season joins the German Bundesliga club SC DHfK Leipzig (read more here).
Mark has played in GOG since 2010, where he came from Nordsjælland Håndbold. Last season, he made 109 goals for GOG.
"Mark has been one of the best right wings in Danish handball in recent years, and he is among others absolutely amazing in the counter-attacks," says Jan Larsen, director of Aalborg Håndbold. "After a few years in the League he knows the Danish League very well and brings a lot of routine - he fits perfectly into Aalborg Håndbold," concludes Jan Larsen.
"I am looking forward to a new handball chapter and look forward to starting in Aalborg Håndbold. They have been a continuous top club in recent years, and I look forward to playing in front of the great North Jutland home audience from next season," says Mark Strandgaard.
Yesterday, the Icelandic national player Ómar Ingi Magnússon was rumored to Aalborg Håndbold (read more here). Last week the Danish champions announced the Danish national player of PSG, Henrik Møllgaard, as a new signing from next season (read more here).