Goalkeeper leaves SønderjyskE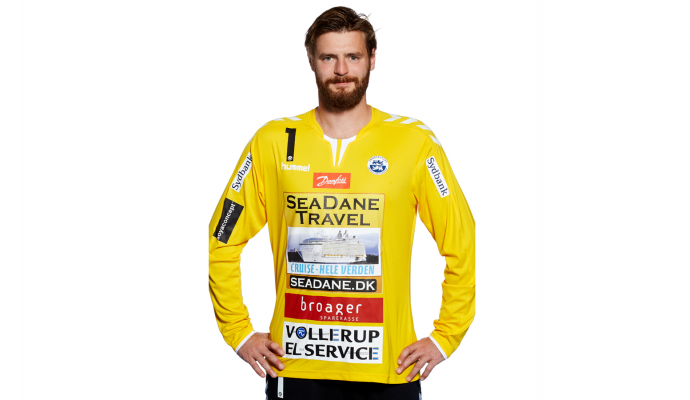 Photo: soenderjyske.dk
Written by: Rasmus Boysen
The Danish league club SønderjyskE has used a clause to terminate the contract of their 33-year-old Danish goalkeeper, Anders Gubi Petersen, one year early, which means the experienced goalkeeper leaves the club after this season.
Anders Gubi Petersen stops as goalkeeper for SønderjyskE after this season. The club has chosen to use a clause in the 33-year-olds contract to terminate the cooperation.
"It is correct. I simply think that he has had to few saves. So it's a pure sporting balance," says the sports director Simon Lindhardt to the Danish newspaper JydskeVestkysten.
Anders Gubi Petersen, who is playing the 4th season in SønderjyskE states the following on Facebook about the announcement:
"So the time has come for a major change, as I have been contacted by the Sporting director of SønderjyskE, who has chosen to use a clause in my contract and thus has terminated it from the summer of 2017. A decision of course I have been very influenced by, but also reflected on and of course respect.
Personally I would have hoped to perform better for the club this fall, and thus might have avoided this unfortunate situation.
At the same time I'm thinking back with pride on almost four amazing years, where I feel I have helped continue the great progress the club has been in, with two playoff participations, EHF Cup participation and the club's best ranking to date in the league.
I want to thank all my teammates I have and have had, and the great team behind the team. But the biggest thanks must be to the fantastic audience that always fills Broager Sparekasse Skansen and support us in the ups and downs.
Before I stop, I will try to do my best to another playoff participation, so my time here can be plugged great of.
Looking forward to seeing you in Broager Sparrekasse Skansen - either as a player or audience."
It is still uncertain who'll replace the experienced goalkeeper, who previously has played in HK Egene Gråsten, KIF Kolding and Team Tvis Holstebro, in SønderjyskE next season.