Elverum may be looking for a keeper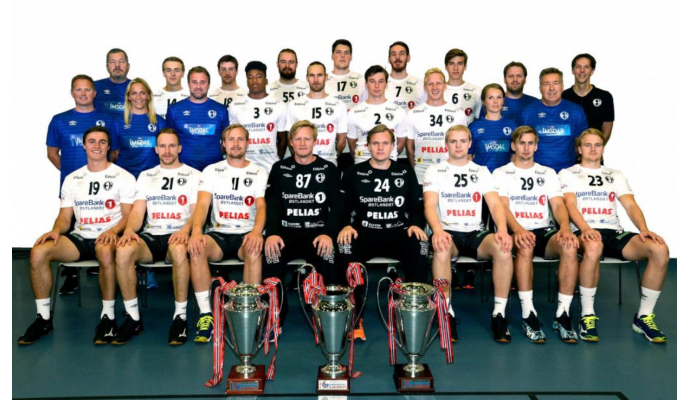 Photo: ehh.no
Written by: Rasmus Boysen
The leaders of Norwegian champion Elverum HH are exploring the terrain for goalkeepers due to the injury of Morten Nergaard.
According to the Norwegian newspaper Østlendingen, representatives from the Norwegian champion Elverum HH were in several meetings with agents in Denmark in connection with the Champions League match in Denmark between Skjern Håndbold and Elverum HH.
"We've had some conversations with agents, to know how the players market is at the moment. These meetings were agreed in advance before the trip to Denmark and, as such, do not have anything to do with the goalkeeper question, but it has recently been made up to date because Morten Nergaard is currently injured," the member of the sports committee of Elverum HH, Nils Kristian Myhre, confirms to Østlendingen.
He confirms also, that the club will await a MRI investigation by the captain Morten Nergaard on Monday before moving on with the goalkeeper question. The 30-year-old Norwegian goalkeeper has had back problems for some time.
"We want to have 3 goalkeepers. It is important given the competitive situation both in matches and in trainings. Should it prove that Morten is back for the weekend, I do not see it as particularly relevant that something is happening at the goalkeeper position now."
According to Østlendingen the Norwegian Champions League participant Elverum HH is interested in the Danish goalkeeper of SG Flensburg-Handewitt, Rasmus Lind, and the Norwegian goalkeeper of HC Midtjylland, Lars Eggen Rismark.
Rasmus Lind has in the beginning of the season replaced Kevin Møller in the north German top club, but Møller has now returned from an injury. The Danish club of Lars Eggen Rismark, HC Midtjylland, has financial problems. The Norwegian newspaper emphasizes that it is still too early to say whether the players can, will and are possible to sign.
"It's too early to say what's going to happen, but what is certain is that there are no international top goalkeepers waiting for us to call. It's incredibly difficult to find players on that position in the middle of the season, and right now we also do not know if we are looking for a short-term or long-term solution," ends Nils Kristian Myhre to Østlendingen.
Elverum HH is with 2 matches left of the Champions League group C placed 4th with 8 points, but still has the chance to advance from the group phase.