Århus signs tall Norwegian pivot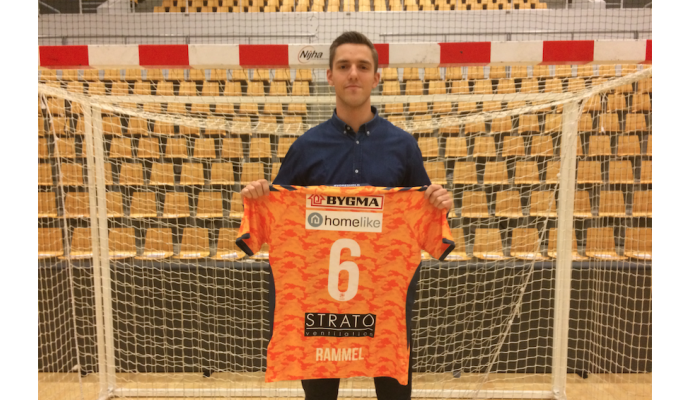 Photo: aarhushaandbold.dk
Written by: Rasmus Boysen
The Danish League club Århus Håndbold has signed a 3-year contract with the Norwegian line player Kristian Rammel.
The Danish League side Århus Håndbold has found a new pivot. The 22-year-old Norwegian pivot Kristian Rammel has signed a 3-year contract with the Danes from next season to the summer of 2021.
It was a recommendation from the Norwegian national coach and former assistant coach in Århus Håndbold, Christian Berge, who made Århus Håndbold look at the Norwegian pivot.
"One of Kristian's great forces is that he can play at both ends of the court. He is a big and strong pivot, who, despite his size, is incredibly moving. He has already been named as one of the great Norwegian talents whom they believe in Norway, and after seeing several of his matches we agree with this. Therefore, we believe he is a very exciting player, whom we would like to work with in Århus Håndbold. He is the captain of his current club Bækkelaget at the age of 22, which we testify to being a young and ambitious player with the right attitude," says the sports director of Århus Håndbold, Peter Bredal, in a press release.
Kristian Rammel, who has played his entire handball career in the Norwegian club Bækkelaget SK, about the commitment:
"I have had a very good impression of Århus Håndbold. Both when we met them and the matches I've seen. Århus Håndbold is a big Danish club, which plays in one of the best leagues in Europe. I think the team is playing really nice handball and it is a team of many young players who want to grow well and develop," he says.
Head coach of Århus Håndbold Erik Veje is also looking forward to getting Kristian Rammel:
"Kristian is the adult of size with his 2.08 meters. He is a very big player, and moves well in proportion to how big he is. He is a young player with a very good development potential. He has the prerequisites for becoming a very good player, so it is also exciting to get Kristian to the club and follow him forward."
Kristian Rammel is looking forward to coming to Denmark and he sees great potential in Århus Håndbold.
"It will be exciting to come to a whole new club and a new city. I have been playing in the same club all my life, so I'm looking forward to coming to Aarhus. The club performs well and I hope to contribute to the good development. I myself have great aspirations to get on the Norwegian A national team, and I think Århus Håndbold is the right place to evolve for that "