Winterthur extends with youngsters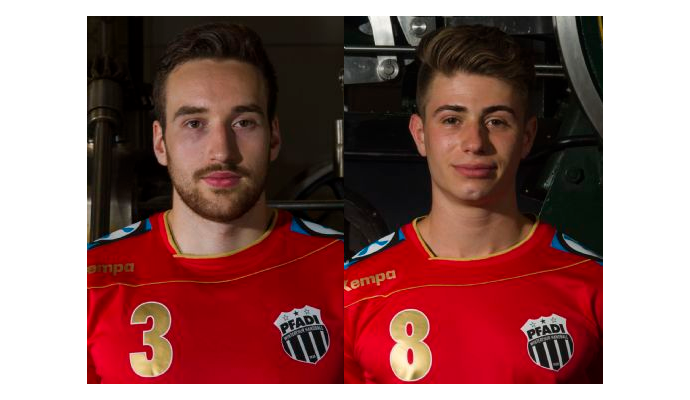 Photo: Yannick Ott to the left, Fabrizio Pecoraro to the right. pfadi-winterthur.ch
Written by: Rasmus Boysen
Yannick Ott and Fabrizio Pecoraro extend their contracts with the Swiss top club Pfadi Winterthur with two years to the summer of 2019.
Pfadi Winterthur sets the course for the future at an early stage and extend the successful collaboration with the back court player Yannick Ott and the left wing Fabrizio Pecoraro with two more years until the end of the 2018/19 season.
The 20-year-old Yannick Ott has been playing at Pfadi since the 2009/2010 season, and has passed through all Junior stations of the club. Yannick Ott is a member of the Swiss U21-national team and fights with the Swiss national team in January 2017 for the World Cup qualification.
The 20-year-old Fabrizio Pecoraro has been playing for the U15 Juniors for Pfadi Winterthur and has in the past seven years become an important supporter of the NLA team.
Teammanager Goran Cvetkovic is pleased with the agreement:
"Yannick and Fabrizio are two ambitious players from the Phadi youth team, who are in their young and still develop. We are pleased that the two
players has extended with two more years. We will continue in the future to focus on young players."