Qatar without stars in France!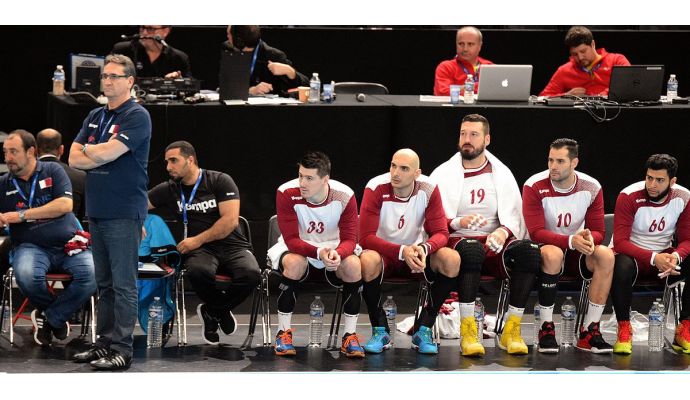 Written by: Rasmus Boysen
The head coach of the defending vice world champions of Qatar, Valero Rivera, must do without 4 key players of the team at the World Championship in France in January - right back Zarko Markovic, right wing Eldar Memišević, goalkeeper Goran Stojanović and the line player Borja Vidal Fernández.
The reason for the absence of the 4 players, who all have a history with another country, is still uncertain.
The 28-man initial squad:
Goalkeepers:
Danijel Saric, Al Quiyada SC
Yousuf Alalbdulla, Al Gharafa SC
Ahmed Abdelrhem, Al Arabi SC
Rasheed Yusuff, Al Sadd SC
Right wings:
Abdulla Al-Karbi, Al Sadd SC
Nasreddine Megdich, Al Rayyan SC
Abdulaziz Helali, Al Wakra SC
Right backs:
Mustafa Alsaltialkrad, Al Sadd SC
Ahmed Abdelhak, Al Gharafa SC
Marouane Sassi, Qatar SC
Playmakers:
Kamal Aldin Mallash, El Jaish SC
Mahmoud Hassaballa, Al Sadd SC
Wajdi Sinen, Lekhwiya SC
Abdelrahman Abdalla, El Jaish SC
Omar Alsafadi, Al Rayyan SC
Line players:
Youssef Benali, Espérance ST
Bassel Alraye, Al Rayyan SC
Firas Chaieb, Lekhwiya SC
Ebrahim Ebaid, Al Sadd SC
Left backs:
Rafael Capote, El Jaish SC
Bertrand Roin, Lekhwiya SC
Ameen Zakka, Al Rayyan SC
Amir Denguir, Al Arabi SC
Left wings:
Abdulrazzaq Murad, Al Gharafa SC
Ahmad Madadi, Lekhwiya SC
Anis Zouaoui, Al Arabi SC
Yassine Sami, Al Wakra SC
Defender:
Hassan Mabrouk, El Jaish SC
Qatar is in Group B with Denmark, Sweden, Egypt, Bahrain and Argentina at the World Championship in France in January.