Right back returns to Denmark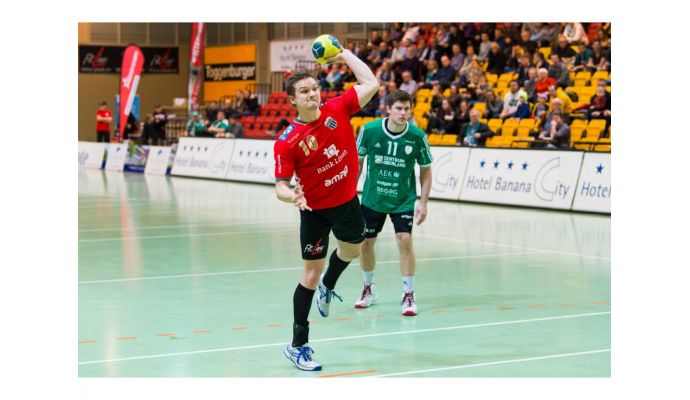 Photo: http://www.pfadi-winterthur.ch
Written by: Rasmus Boysen
The 25-year-old Danish right back Jonas Langerhuus leaves the Swiss top club Pfadi Winterthur to join the Danish League club Århus Håndbold after this season.
Yesterday, the Danish League side Århus Håndbold announced, that he Icelandic right back of the club, Omar Ingi Magnusson, leaves the club to join the League rivals Aalborg Håndbold after this season (read more here).
Today, Århus Håndbold has announced his successor. The Danish right back Jonas Langerhuus returns to Denmark after a two-year stay in the Swiss league with the top club Pfadi Winterthur. Århus Handbold and Jonas Langerhuus have signed a two year contract from next season to the summer of 2020.
Jonas Langerhuus looks forward to the cooperation and is looking forward to returning to Denmark and Danish League:
"Now I have been Switzerland for two years and would like to return to Denmark again. As the opportunity with Aarhus Håndbold came about, it could hardly fit better. The concept with the slightly younger players, I think, dresses the club well and I look forward to being a part of it," the former Danish youth national player stated in a press release.
When Jonas Langerhuus left Denmark, it was after a long injury that kept him from the field. No injury, however, has bored him for the past year and a half, and the body is doing well.
"When I left Denmark, I had been injured for a very long time, so now I'm returning home and want to show that I can still play handball. Of course, there are also some expectations that you want to go home and do well. But there are also expectations from the club, that you are playing well, and that is also the case in Århus Håndbold."
Head coach of Århus Håndbold Erik Veje looks forward to getting Jonas Langerhuus to the club, but does not hope that the Swiss discipline has put too much in the player.
"I think it's a really nice signing. Jonas has been in Switzerland, where he has been severely disciplined. I hope, however, that they have not grabbed him, because one of his qualities is his wildness and unruly, but I'm sure he'll soon find back to the old Langerhuus. It is therefore a player, we look forward to welcoming here and it will be exciting to see what he can deliver for us."
Jonas Langerhuus also looks forward to trying out Erik Veje as a coach, who in his own career played in the same Swiss club.
"It will be exciting to get Erik Veje as a coach. When I look at the other coaches in the league, he really stands out because he does things in his own way and I like that. For many of the other coaches, it is running a bit in circles, so I look forward to having Erik Veje as a coach."
Jonas Langerhuus has previously played in the Danish League in Skanderborg Håndbold and Ribe-Esbjerg HH.