Minden signs Greek talent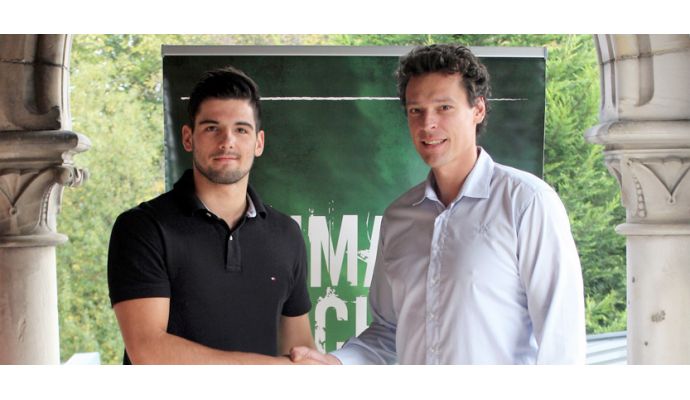 Photo: https://gwd-minden.de
Written by: Rasmus Boysen
The German Bundesliga club GWD Minden has signed the 20-year-old Greek left back Savvas Savvas from the German 2. Bundesliga club Eintracht Hildesheim.
Press release from GWD Minden:
GWD Minden has become active in the transfer market and has committed the 20-year-old Savvas Savvas of Eintracht Hildesheim. The Greek back court player will strengthen the green and white for two years from the 2018/2019 season. With the commitment of the young Greeks, the Dankerser continue their change process in the squad.
The current season is only a good third played, but the people in charge of GWD Minden already throw a glimpse into the future and are already planing in the squad future. The first access Savvas Savvas debuted three years ago in the 2nd Bundesliga for the Eintracht Hildesheim. In 2015, he moved to ASV Hamm Westfalen for two seasons, before joining the Lower Saxony again in the summer. The 1.92-meter man is currently leading the scoring list of the league.
"It was clear to us from the beginning that Savvas might play for only a year. He has great potential and pursues the goal of prevailing in the 1st Bundesliga. After his strong performances in the season so far, he has drawn attention to himself. We are pleased that next year he will get the chance to prove himself at GWD Minden and wish him all the best on his way," says his current coach Gerald Oberbeck.
On the mentioned qualities, the GWD fans can then be happy from 1 July 2018. The commitment creates the Mindener more alternatives in the left back position. "We are pleased that the Savvas commitment has now been achieved. He's a player we've been watching for three years and has special attacking qualities. Our common task now is to further develop this talented player and use his strengths in our game," says Mindens coach Frank Carstens.
"I'm happy to play for a traditional club like GWD Minden. I really appreciate Frank Carstens as a coach and I like the way he works with young players. In the discussions with Frank von Behren, I quickly realized that I can identify very well with the concept at GWD. My wish has always been to play in the Bundesliga and I think GWD Minden is a very good start for that," says Savvas.