Dutch European Qualifiers squad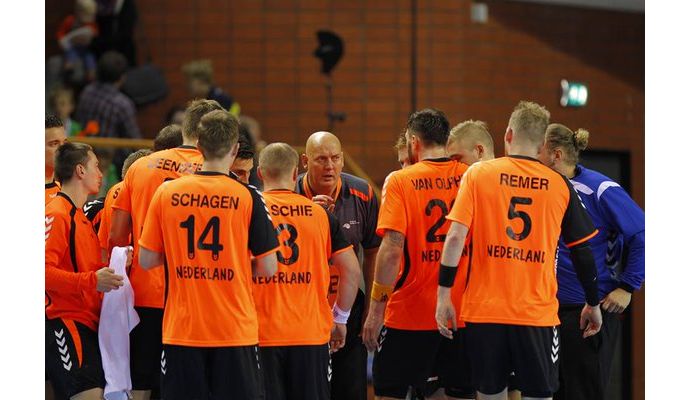 Photo: handball.nl
Written by: Rasmus Boysen
The Dutch national coach Joop Fiege has selected 16 players for the upcoming European Qualifiers.
Joop Fiege has announced the final roster for the two European Championship qualifiers against Denmark and Hungary at the end of October and early November.
Compared to the last two World Championship play-off games, in which the Netherlands won a historic home victory against Poland, the head coach changed four players. Kay Smits, Jorn Smits, Jeffrey Boomhouwer and Iso Sluijter are not selected. Mark Bult, Ivo Steins, Dario Polman and Nicky Verjans are back in orange.
The squad:
Bart Ravensbergen, Selestat (Fance)
Luc Steins, Massy (France)
Dario Polman, HSG Krefeld (Germany)
Toon Leenders, Targos/Bevo HC (Netherlands)
Leon van Schie, KRAS/Volendam (Netherlands)
Patrick Miedema, HSG Nordhorn-Lingen (Germany)
Arjan Haenen, MT Melsungen (Germany)
Nicky Verjans, HSG Nordhorn-Lingen (Germany)
Gerrie Eijlers, GWD Minden (Germany)
Tim Remer, Tus N-Lübbecke (Germany)
Fabian van Olphen, SC Magdeburg (Germany)
Jasper Adams, TV Emsdetten (Germany)
Bobby Schagen, TVB 1898 Stuttgart (Germany)
Ivo Steins, OCI-LIONS (Netherlands)
Mark Bult, Vfl Gummersbach (Germany)
Jort Neuteboom, TuS Ferndorf (Germany)