Kristianstad interested in talent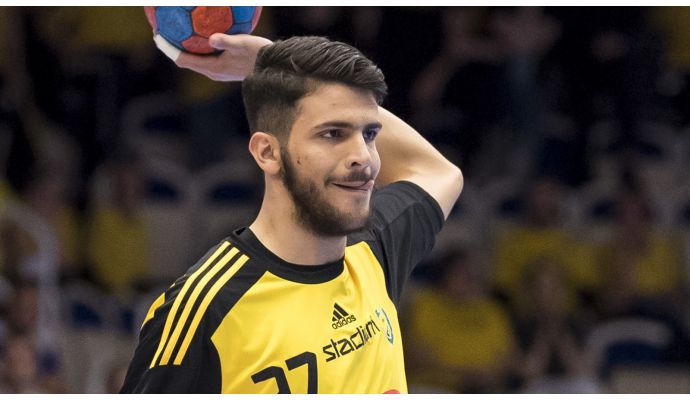 Photo: http://www.handbollslandslaget.se
Written by: Rasmus Boysen
The talented 19-year-old Swedish right back, Gzim Salihi, may be the solution to the right back problem of the Swedish champions, IFK Kristianstad.
Yesterday, the 23-year-old Norwegian right back of IFK Kristianstad, Stig-Tore Moen Nilsen, who has a contract that expires after this season, was rumored to join the Danish League club HC Midtjylland (read more here), when the Danish clubs current right back Eivind Tangen joins the Danish League rivals Skjern Håndbold after this season (read more here). In advance, it has already been announced that the first choice on the right back position of IFK Kristianstad, Albin Lagergren, leaves the club to replace Nemanja Zelenovic in the German Bundesliga club SC Magdeburg from next season (read more here).
Therefore, the Swedish club is obviously looking for possible replacements. According to the Swedish newspaper Kristianstadsbladet the Champions League participant is interested in the 19-year-old Swedish right back Gzim Salihi, who has had a great beginning of the season with the Swedish League rivals IK Sävehof. The talented player confirms interest from IFK Kristianstad:
"It's fun that such a big club is interested. They play the Champions League and have won the Swedish Championship for several consecutive years. We have not come so far, but I have a dialogue with my agent (Rasmus Skram, ed.) about what to do," he states to Kristianstadsbladet.
The Sports Director of IFK Kristianstad, Jesper Larsson, emphasizes that the club has not spoken to the player.
"He (Gzim Salihi, ed.) is a good player, or a player who can certainly be very good, but I have never talked to him. I can only say that we really want to keep Stig-Tore (Moen Nilsen, ed.) here. I have talked to him and do not think he has signed anywhere else, so much I can say. We have had an initial talk and I hope we can complete it," the Sports Director states to Kristianstadsbladet.
8 players have contracts which expires at the end of the season in IFK Kristianstad. Get the overview here.