Huge blow for Hungary: Nagy retires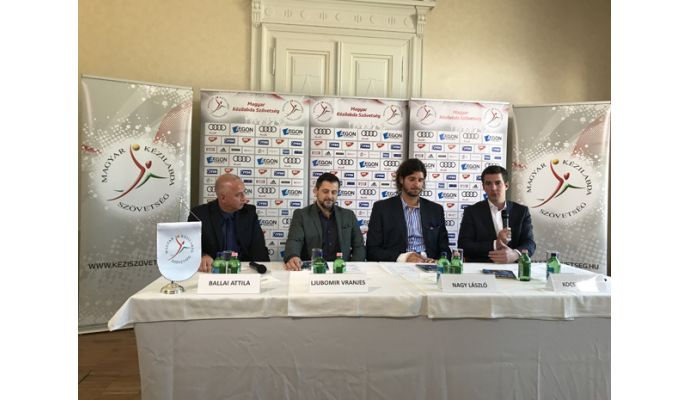 Photo: http://keziszovetseg.hu
Written by: Rasmus Boysen
In the press conference of the Hungarian Handball Federation on Monday, the 36-year-old right back László Nagy announced that he would withdraw from the Hungarian national team.
"In recent weeks I have agreed with Máté Kocsis, the President of MKSZ, that I will finish my career at the Hungarian national team after almost 18 years," László Nagy said at the press conference. "The reason is simple, I find the right back job solved, including by Gábor Ancsin and Zsolt Balogh, both of them have proved themselves. I would like to thank all the national coaches for the confidential and the common work. There are plenty of memories, experiences and friendships, as well as love for the choir. It was an uplifting feeling in the national team, I would like to thank the members of the national team. Hungarians go for it!
"MKSZ takes note of Laszlo's decision, of course we are not happy because the national team is losing a fantastic player, but we respect his decision. Half of his life has been spent in the national team, with nearly 200 caps and more than 700 goals, his talents and knowledge," said Máté Kocsis, chairman of the Hungarian Handball Association. "We would like to make sure that we have a good farewell, and we will soon give you some details about it. We are also discussing how to engage Nagy in the leadership of the sport, and we are also looking for ways to do so, as both sides are open to this. Thank you for the Hungarians, Hungarian sports lovers, whom László Nagy made for his country and we wish him much success in the future!"
"Laci decision we should honor. There have been many successes in the national team, so one we lose a role model, as a coach, a great loss, one of the world's best players will retire from the national team" - emphasized Ljubomir Vranjes, the Hungarian national coach "It's not a simple task, but we have to move on. It is difficult to make up for it, but we have a lot of young players, so there is a future for the Hungarian team, which we have to build, of course, without Laci."
The captain of Telekom Veszprém, László Nagy, was injured during yesterday's VELUX EHF Champions League clash between Telekom Veszprém and THW Kiel. Dr. Zsolt Mahunka immediately took him to the hospital, where he found out that László broke his right thumb. The recovery of the player will take 4-6 weeks.
LÁSZLÓ NAGY
Born: March 3, 1981, Székesfehérvár
Club: Telekom Veszprém (since 2012)
Previous clubs: Pick Szeged (until 2000), Barcelona (2000-2012)
Number of caps 199 (1999-2017)
Number of goals scored: 728
Results with the Hungarian national team:
Olympics: 4th place (2004 and 2012)
World Championships: 11. (1999), 6. (2003), 9. (2007), 6. (2009), 8. (2013), 7. (2017)
European Championships: 9th (2004), 13th (2006), 8th (2008), 12th (2016)
Junior World Cup: 4th (2001)
Junior European Championships: 3th (1998), 6 (2000)
Youth Europe Championship: 3th (1997), 1 (1999)
Club Leagues: Champions League Winner (2005, 2011), Champions League Final (2001, 2015, 2016), Champions League FINAL4 (2010, 2011, 2014, 2015, 2017, 2017), EHF Cup Winner ), Spanish Champion (2003, 2006, 2011, 2012), Spanish Cup Winner (2004), Hungarian Champion (2013, 2014, 2015, 2016, 2017), Hungarian Cup Winner (2013, 2014, 2015, 2016, 2017) , 2007, 2009, 2010)
Personal Recognition: The Handball Player of the Year in Hungary (2009, 2013, 2015, 2016), member of the World Series All Star (2013)